Wax On, Wax Off.
Without question, the 1980s produced some of the most iconic scenes and dialogue in movie history. And when it comes to wise words to live by, Mr Miyagi's training instructions in beloved classic The Karate Kid sure take some beating.
The first instalment of the movie franchise is still remembered with fond nostalgia almost 35 years on from making its big screen debut – and now YouTube Red is looking to reach a whole new generation with Cobra Kai, its sequel to the original series.
YouTube's streaming subscription service has made sure that plenty of eyeballs are fixed on its new show thanks to an elaborate – and rather brilliant – prank in the heart of New York City.
The viral stunt, which has already clocked up well over 10 million views on Facebook and 3 million on YouTube, simply and effectively conveys everything that made The Karate Kid so brilliant in the first place.
The set-up is simple: two actors, one playing a nice guy and one – much larger – portraying a bully, get involved in an altercation on a SoHo street when the bully picks an unnecessary fight with his much smaller adversary.
As onlookers watch on at the scene unfolding before their very eyes, the smaller 'nice guy' declares "you don't wanna mess with me" before adopting a karate stance.
And then things get very interesting.
As the bully rubs his hands together with relish ahead of the ensuing beatdown, his opponent takes aim at a lamppost – and then smashes right through it.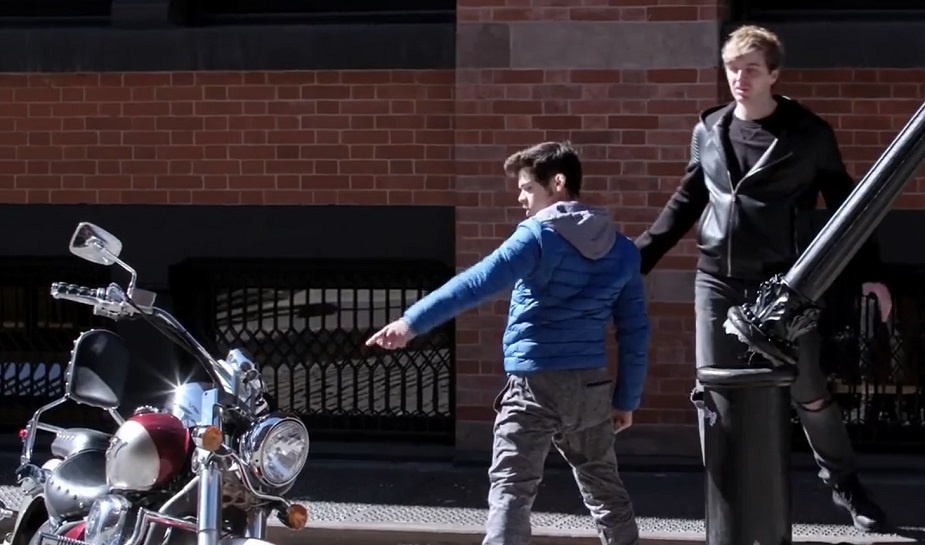 As shocked onlookers watch on, he then turns his attention to the bully's motorbike and – with one swift karate chop – smashes it clean in half.
And for a final flourish, he kicks the top straight off a nearby water hydrant, spraying water everywhere to add an explanation point to the chaos.
Of course, as with the best pranks, it is the genuine reactions of witnesses that provides the true gold.
While some outraged onlookers scream with anger at the destruction they've just witnessed, others applaud and even high-five the karate master, delighted to see the bully get his public comeuppance.
"I wouldn't mess with him," says one bystander. No kidding.
Pranks have become a very popular and powerful experiential marketing tactic in recent years, providing some hugely memorable moments and magical reactions.
From Paramount Pictures' terrifying and disturbing prank for 'Rings' to an unbelievable street hack prank for the video game WATCH_DOGS, pranks are no joke when it comes to their ability to secure huge reach and global awareness for brands.