Shifting consumer habits. Premium price justification. Even, at times, negative public perception. Operating within an increasingly self-legislated channel, alcoholic brands face some daunting marketing challenges these days.
It's hardly surprising, then, that many have made the wise decision to invest in the execution of highly spirited experiential marketing campaigns in recent years.
With no other channel allowing for the same level of direct engagement or face-to-face encounters, experiential enables alcoholic brands to create experiences that leave a positive, lasting impression.
With many of the biggest names in the sector now pushing the experiential envelope, how are alcoholic brands using this channel to their advantage? And why are they able to do it so effectively? Let's take a look…
1. They're leveraging global sponsorships and partnerships
The level of brand exposure available through the right event sponsorships or brand partnerships can be huge. There are many alcoholic brands that truly get this, and reach a huge audience as a result.
Take Heineken, for instance. The brand recently leveraged its Champions League football sponsorship to great effect with a powerful sponsored 'prankvertising' campaign that allowed the beer brand to tap into an engaged audience of die-hard football fans that was relevant to their brand.
Similarly, beer brand Tui, as the sponsor of New Zealand Cricket, used a fun experiential stunt to get people excited about the sport. The activation offered spectators the chance to win big money for a one-handed catch. The brand's novel approach made sure Tui was synonymous with the country's favourite summer pastime, capturing the imagination of fans and even leading to a 54% increase in game attendance after the first catch!
2. They're targeting an experience-hungry key demographic
Brand marketing campaigns have always to looked to tap into the desires of their target audiences by simply associating their products with living a sweeter life.
But this is changing, and millennials are leading the way.
Economics professor Andrew Oswald claims that "it's now experiences that people are short on, not items." Oswald confirms that's effective marketing is no longer just about tying your brand to an idea – brands needs to offer their audience a truly memorable experience.
These are the things that money can't buy; memorable – and highly shareable – moments are now the currency with which brands must trade, especially with savvy millennials.
Liquer brand Midori's creative experiential approach did just that with a quirky, unusual and sensory-engaging experience that had an curious, experience-hungry millennial audience firmly at its heart.
3. They're using product sampling to tackle key challenges
Becoming ever more stringent, responsible drinking guidelines mean that brands must be highly targeted and intentional in their marketing approach. Experiential marketing allows for just that, through the all-important face-to-face element that's at the heart of successful product sampling.
When Heineken wanted to encourage 18-24 year olds to choose its brands over other beers and ciders, a series of thirst-quenching taste tours achieved just that. This proven approach allowed experienced brand ambassadors to age-check everyone receiving the brand's message to ensure it was appropriate for their ears.
A thorough venue selection process also means brand teams can place themselves within carefully-researched, age-compliant venues and events to reach exactly the right audience at the right time.
4. They're tapping into life's most emotive moments
There are many reasons why alcoholic brands are in a very strong experiential position. But the biggest? Its products are highly relevant to happy and emotive times for many consumers.
Savouring a fine whisky with your friends. Celebrating a big birthday. Making the most of a long weekend. Cheering on your favourite team at a big sporting event. Spending time laughing with loved ones in the sunshine. There are so many moments and personal milestones where alcohol plays a part, and experiential marketing can tap into these feelings to powerful effect.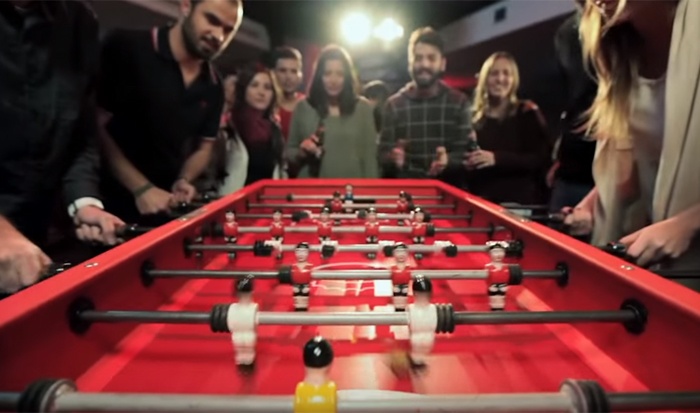 Super Bock's modified foosball machine is a great example of this, with the Portugese beer brand building on an all-time favourite bar activity to create a clever experience that associated their brand with a fun, classic game for friends to enjoy together.
Live brand experiences provide opportunities to build positive emotional bridges between brands and consumers; the chance to taste, feel and connect with products in a hugely personal way.
And for alcoholic brands, this one-on-one contact is everything. It's the chance to leave behind a refreshing and satisfying memory, with no bitter aftertaste.
Drink it in…
Making experiential marketing work for your brand takes careful planning and impeccable execution. Take a look at these 7 essentials for getting experiential right for our top tips.