Five years ago this month, I started Because Australia with the support of our UK office under Sharon's mentorship.
As I sat at my desk in a shared office space, I honestly had no clue what to do. Setting up the company, filling out forms was the easy bit. Brainstorming with a whiteboard by myself, less so (we call this the 'Wilson' period). Getting the phone to ring by anyone other than my accountant, lawyer or my husband – even harder!
The months that followed were lonely. There were a few highs but mostly lows. Was this for me? Why did I start a company in a country I've never worked in professionally? Will anyone ever call with a brief?
Since those early days, things have definitely changed and we are growing and thriving, but the hustle never leaves you and I never take what we have for granted. It's very easy to glorify start up days, especially when things have turned out for the best.
Five years is a milestone in life and in business, so I'm going to share 5 lessons I've learned on the road to success (plus a bonus point!):
1. If you're persistent and determined, someone will eventually call
I was standing in Melbourne airport after a long day hustling for business when my phone rang. It was a client. With a brief. A pitch. An opportunity. I'm not ashamed to say that I cried with happiness and relief when I hung up the phone.
In the weeks that followed I was so immersed in the brief that come pitch day, I never pitched so hard in my life. It was make or break and completely thrilling. I guess passion shows, as shortly after the pitch, my phone rang again and all 3 clients let me know over speaker phone that we had won the business. What a relief and sense of validation. Learning we out-pitched one of the largest, most established agencies in the market made victory event sweeter.
2. Not all partnerships are partnerships
We were really let down in the early days of the agencies life by a supplier, who until that point I had considered a partner. When I launched the business here, we decided to outsource our field staffing purely because it was too much to start an agency and an-in house staffing division at the same time. This went against the grain of Because's heritage where we have always had in-house staffing, so we have complete control of the delivery in field.
Mid way through a rather large, tricky campaign the supplier who I was working with decided that they no longer wanted to work on the business as it was too hard and taking a toll on their team, and that they wanted to focus on other clients. This shattered me, I couldn't believe they didn't have the integrity to finish what they started, but I guess even in business we don't all have the same values. As horrible as the situation was, it forced my hand and proved why in-house staffing is so vitally important to our business. We launched our in-house staffing division the next week and haven't looked back. In retrospect, as horrible as it was being let down, it helped us become a stronger business.
3. You need to work hard, be kind and have fun
Fun always follows hard work for our team. We'd had a good couple of quarters and the team had been working all hours so we decided a fun weekend in Noosa was in order. Nothing beats an away weekend (especially one that starts on an aeroplane) with your team where you eat cheese, drink wine and play endless rounds of 'Cards against Humanity'.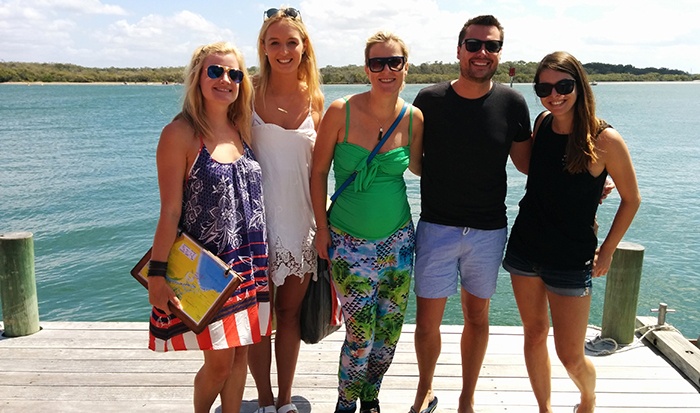 4. Don't be afraid to ask for help
There are too many people to thank who have helped us over the past 5 years. Because I had to establish a network very quickly here in Australia, I learned how to ask for help and referrals. And I can say from experience that when you ask for help, answers usually follow quickly. We have worked out of a collaborative office space since launch and I can honestly say this type of environment forces you to think outwards and look to the network surrounding you for help.
5. Big things come from small beginnings
Delivering the Sydney Royal Easter Show for Woolworths in 2014 was a huge moment for our small team. We won the business from a much bigger, more established incumbent. We were definitely channelling the Mighty Ducks throughout the whole planning process. It was the biggest activation we had delivered locally with so much unexpected complexity. In the lead up to, it was 6am starts and midnight finishes….there was no denying the only way we were going to pull off such a massive event was through sheer determination, tenacity and hard work. And we did. We even won a gold award for best sponsor activation. Our success proved that big things can come from small beginnings, as long as you have the right team and attitude. And copious amounts of coffee.
Bonus: 6. The people make the party
It's true you're only as good as the people you surround yourself with. When I interviewed Gareth, our Client Development Director, it was our first senior hire (gulp, up goes the overhead). He said he wanted to have fun at work, which I was pretty impressed by. Why shouldn't senior people want to have fun too? Fast forward two years and Gareth is the team's champion, pinot gris 'specialist' and a key senior member of the team. Testament to Gareth's leadership and support of the wider team is me being able to go on mat leave and come back to a business that is absolutely rocking. BRW even named us a Fast Starter that year!
But it's not just Gareth, it's every person in our team both past and present. I feel lucky to work with such a diverse bunch of creative people.
So what will the next 5 years hold? Honestly, I'm not quite sure but I've got an open mind and I'm ready for even bigger opportunities and experiences to come our way.