Tech buff and BEcause's Director of the Unexpected Joss Davidge gives the low-down on Microsoft's Hololens.
What is it?
Just a week after Google announced the halt of Glass production, Microsoft revealed Hololens to the world; a wireless holographic headset that will overlap 3D holograms into a user's vision of their environment. It will run the new Windows 10 independent of a smartphone or computer and users can create their own holograms within the company's HoloStudio and 3D print the finished result.
It features the first ever HPU, or holographic processing unit.
What is its appeal?
The device bridges the 'real' and virtual worlds in a truly seamless way.
Where the crux of Glass' plan was based on the assumption that people would wear it out in public during normal activities (which turned out to be an emotional stumbling block for them), HoloLens is being marketed as a device for specific work or creative tasks. And where Facebook's Oculus is more of a totally immersive whole world experience with probably a wider appeal to gamers and at events, HoloLens as a concept seems to have a much broader applicability as it blend virtual and real worlds in real time.
What does it mean for marketers?
HoloLens signifies a shift from traditional computing. And this shift could have massive implications for brands (both positive and negative, depending on the level that users allow brands to contribute to their experience).
Pundits have predicted that this 'mixed-reality' computing will catch on within the decade, with competing devices from Apple and Google.
In much the same way that touch-interfaces have dominated the mobile computing age, analysts are predicting that hologram-based interfaces will replace the mouse-based interface that defined the desktop computing age.
Indeed, in the way Web and mobile experiences did before it, HoloLens will expand the way brands interact with consumers, working its way through industries.
For brands, HoloLens means being able to transform consumers into immersive experiences where their own reality is changed, where anything they look at can be augmented or transformed. Marketers could give consumers a truly unique visual experience from the moment they walk into a store or look at a product.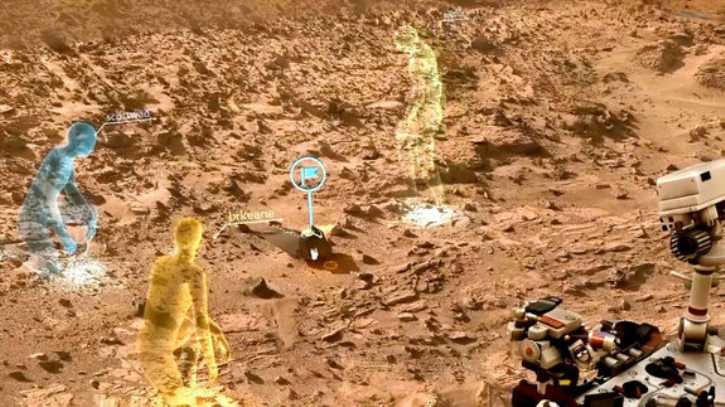 At the launch event, Microsoft and NASA announced their plans to perform science operations using software developed for the HoloLens. The software, which is called OnSight, will simulate the environment that the rover sees using data it gathered on Mars. This will allow program scientists to examine the environment as if they were standing alongside the rover.
And if scientists will be able to virtually walk on Mars with the HoloLens, then the possibilities are endless for brands.
When will it be available?
Well we won't be seeing it available next week or next month!
Microsoft won't be following Google's lead with Glass and putting its prototype out into the wild; as of yet there is no pricing, no launch date, and no guarantee it will take off – but ultimately it demonstrates that Microsoft is working hard to get innovations out to market and we should all keep close tabs on how this evolves.