Defined by New Orleanians as the 'Greatest Free Show on Earth', Mardi Gras has spread its carnival spirit far and wide.
Inclusivity and diversity within businesses is a hot topic at the moment. And so it should be. We've come a long way in the past decade, especially since the successful 'yes' vote back in 2017. More businesses are championing diversity than ever before, and are implementing internal policies to ensure employees feel included and supported, no matter their cultural background, gender or sexual orientation.
But formally recognising diversity in business is still in its infancy, and the spotlight has only recently been placed on the benefits creating a more diverse workforce can have on a company and its people.
From a personal perspective, I have been 'out' as a gay man for over 15 years. I work for a very inclusive agency network, and I believe that because we celebrate diversity, we have a more personal and creative culture.
That being said, I try not to let my sexuality define me. So although I'm not embarrassed or afraid of who I am, I haven't, in the past, freely volunteered the information to our wider community. Until recently that is.
I participated in my first ever Pride March with our clients, AGL, along with hundreds of other corporates and community groups for Midsumma in Melbourne. We dressed up in our bedazzled AGL gear, and danced our way down Fitzroy St. in St. Kilda, cheered on by thousands of strangers.
It was a fun, exhilarating experience, and it got me thinking – what is it that makes employees wear their company's logo with pride? What is it that enables them to fearlessly share their sexuality, personal identity or support for 'the cause' with their employer, colleagues and the wider community? And what impact does that have on the business and its people.
To dig a bit deeper than my previous post on the topic, 'How Brands can Promote Inclusiveness within their Business', I spoke with two clients from companies we're proud to work with, Woolworths Group and AGL. Both are avid and public supporters of LGBTIQ+ inclusion, and are helping lead the charge in making employees and the community feel accepted.
Christine Corbett, Chief Customer Officer at AGL, Australia's largest and oldest energy company, has recently taken the reigns as head of AGL's pride network, Shine. It's made up of over 500 passionate people driving LGBTQ+ inclusion.
Christine says, "It's simple, when people feel free to be themselves – regardless of their gender or sexual orientation – we enrich our thinking and make better decisions. Different perspectives, experiences and backgrounds lead to greater innovation and creativity, and improve our understanding of the people we work with. Having a diverse workforce also helps us reflect the diversity of our customer base and the communities we serve, and demonstrates that we foster an environment where everyone is treated equally with honesty and respect."
Woolworths Group employs over 200,000 people across their retail network, including Woolworths, Dan Murphy's, BWS and BIG W. Rachel Mead, Head of Diversity and Inclusion at Woolworths Group, helps the organisation create an environment and culture where they value difference and the unique contribution people make – no small feat, but as an AWEI Gold Employer for two consecutive years, they seem to be getting the formula right.
She comments, "If you want to get the best out of people, you just need to help them feel comfortable to be themselves, to feel safe, able to contribute knowing they will be listened to. Irrespective of who they are, where they come from or what their sexual orientation is, people will give 150% if they feel like they belong."
The Group has been extremely successful in creating an inclusive culture, which she attributes to laying strong foundations, "It's not what you see in the public eye that's most important, it starts internally. Making sure all policies are inclusive and overtly inclusive for the LGBTIQ+ community. There's also a lot of work in establishing ally networks internally, and understanding how you access and communicate to employees that may be interested in this topic, to ensure support is accessible for not just metro, but regional team members too. Once you have this formula right, and your team members feel good about working for you, then talk about it publicly through events like Mardi Gras."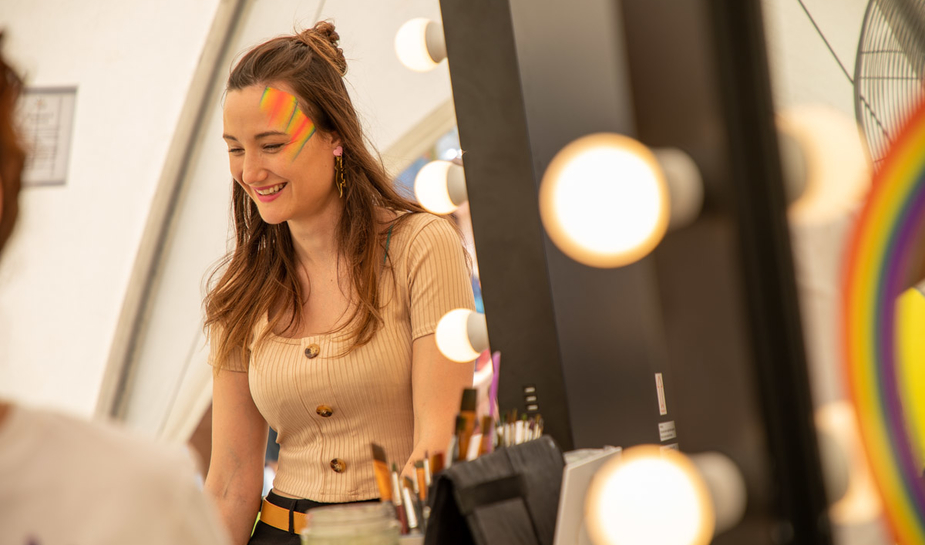 And they do have the formula right. Like AGL, their employees feel good about working for them and happily wear their logo with pride. That's why the Group now sponsors, and has a float, in Mardi Gras. They also support other LGBTIQ+ programs such as Wear It Purple Day, Out For Australia and BLAQ, to name a few.
So create an inclusive environment. Give your employees the freedom to be themselves. Support them. Champion them. And they will do the same for you. They will give you 150%. They will wear your logo with pride. And at the end of the day, your business, it's people, and the bottom line will all benefit.