Los Angeles is a busy place.
From spotting stars on Rodeo Drive, to stargazing at the Griffith Observatory, its no wonder that Los Angles is one of the most visited cities in the U.S.
While the city has been a major travel destination for many years, the number of travellers that flew in and out of Southern California's major airports reached an all-time high in 2018.
With thousands of passengers touching down in LA from all over the world, a unique opportunity exists for brands to reach a broad audience with a rich tapestry of interests.
But with advertising placement opportunities at every moment of a flight customer's journey, from inflight magazines, display systems, overhead bins and boarding passes, how can you make your brand stand out from the crowd?
Perhaps it's time to think outside the box, or the plane for that matter.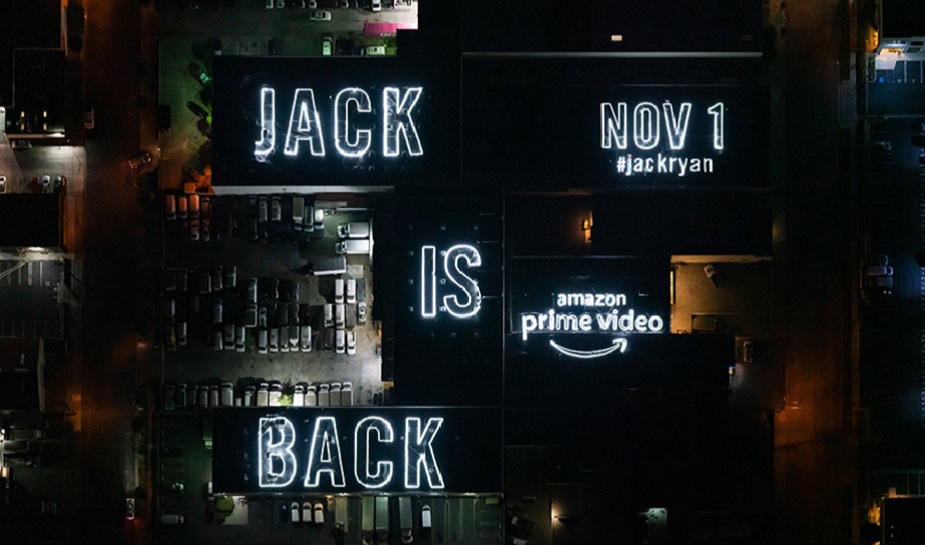 To catch the eye of passengers gazing distractedly out of the window, Amazon Prime created a very clever rooftop stunt to promote the upcoming second season of Tom Clancy's Jack Ryan.
While passengers flying into LA are used to seeing a landscape of brown and black roofs bordered by city lights, they certainly weren't expecting to see an enormous billboard facing up at them.
Covering multiple buildings, the text-only ad took up an impressive 50,000 square feet, which is only slightly smaller than a football field at 57,600 square feet. It is said to be the largest rooftop ad known to date, and the first of its kind to be lit up at night.
Amazon CEO Jeff Bezos was quick to show support on social media for both the advert and the show's return, tweeting:
Season 2 streams November 1. Can't wait. #JackRyan pic.twitter.com/THDtDjGIpQ

— Jeff Bezos (@JeffBezos) September 8, 2019
The second season of Jack Ryan hits Amazon prime on 1 November and we are excited to see which marketing tactics are used by other shows to rival this stand out billboard campaign.
With streaming giants such as Netflix, Hulu and Amazon Prime fighting for position as market leader, attention-grabbing marketing stunts can be very effective in growing audience share and building brand love.
Previous examples of entertainment brands delivering impactful experiential marketing campaigns to win over new viewers include ABC'S subway takeover and Netflix's breathing billboard stunt in LA.