Whether it was an egg-and-spoon race on sports day or a muddy cross-country run, we all have mixed memories of sport in our youth.
Participating in youth sport can be great for children's physical and mental health.
While the nature of sport is to be competitive, there are growing concerns surrounding the pressure in youth sports and the psychological toll that could lead children to burn out and quit altogether.
Tim Hortons discovered that "67% of parents find youth sports too serious" and wanted to inject some fun back into youth sport.
To promote the Timbits Minor Sports Program – designed to help younger kids have a "safe and positive first experience with sport" – the brand teamed up with professional NHL hockey players, Sidney Crosby (Pittsburgh Penguins) and Nathan MacKinnon (Colorado Avalanche).
In a delightful experiential campaign, Tim Hortons brought in the NHL superstars to ask an 'expert panel' of children from a Timbits ice hockey team what they believe would make things a little more fun on the ice.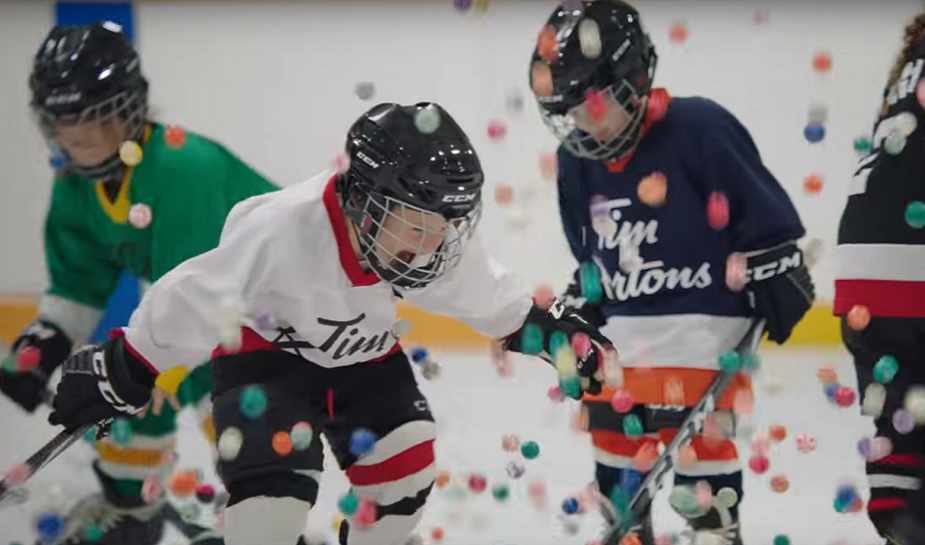 Not holding back, the children explained exactly what they needed; a pinata, farting goalie pads, free snacks and 10,000 puppies. Of course.
To the children's complete surprise, Tim Hortons made all their wishes come true!
In totally adorable mayhem, the ice rink was flooded with a rainbow of sweets, farting noises coming from every direction and a hoard of cute puppies (all wearing hockey jerseys).
Reflecting Tim Hortons' sports programme, "Fun, Fitness and Fairplay", the campaign demonstrated the light heartedness that can come with playing sports such as ice hockey.
Naturally, the campaign saw a wave of positive responses across social media, with hundreds of viewers applauding the brand for its hilariously heart-warming ad.
With an all-round stress busting effect, Tim Hortons offers a gentle reminder that youth sport should be about having fun, with a mission to ensure children maintain a positive relationship with sports.
To help make the future generations' world a happier, safer and fairer place we have seen a rise in campaigns with children's wellbeing at its core. This includes LEGO's Rebuild the future campaign and Citi banks 'girl talk' ad.