This June, Because Australia will collaborate with Zespri SunGold Kiwifruit to bring radiance and feel-good vibes to the heart of Sydney.
In their first ever health and fitness event, Zespri will be flying in Cassey Ho, star of number one female fitness channel on YouTube, Blogilates. Cassey has inspired more than 3 million subscribers with her one-of-a-kind POP Pilates workout, and now 1,000 lucky Sydneysiders will have the chance to experience this unique dance on the mat experience first-hand. And what's more, they'll get it for free!
After working up a hunger from their workout, eventgoers will be invited to visit the Zespri Breakfast Bar. Here they can treat themselves to a sweet and juicy Zespri SunGold Kiwifruit, and learn how to incorporate a bit of gold into their diet every day. The high vitamin C content in Zespri SunGold Kiwifruits assists in muscle repair, making it a great post-workout snack to get attendees back on their feet again fast!
The Zespri Gold Radiance Zone will be open to all attendees. Here they can chat with inspiring health and wellbeing coaches, take advantage of fantastic partner offers and participate in a number of other kiwi-related activities.
To top it all off, the three-hour event will be set to a blistering soundtrack from renowned Soul of Sydney DJs.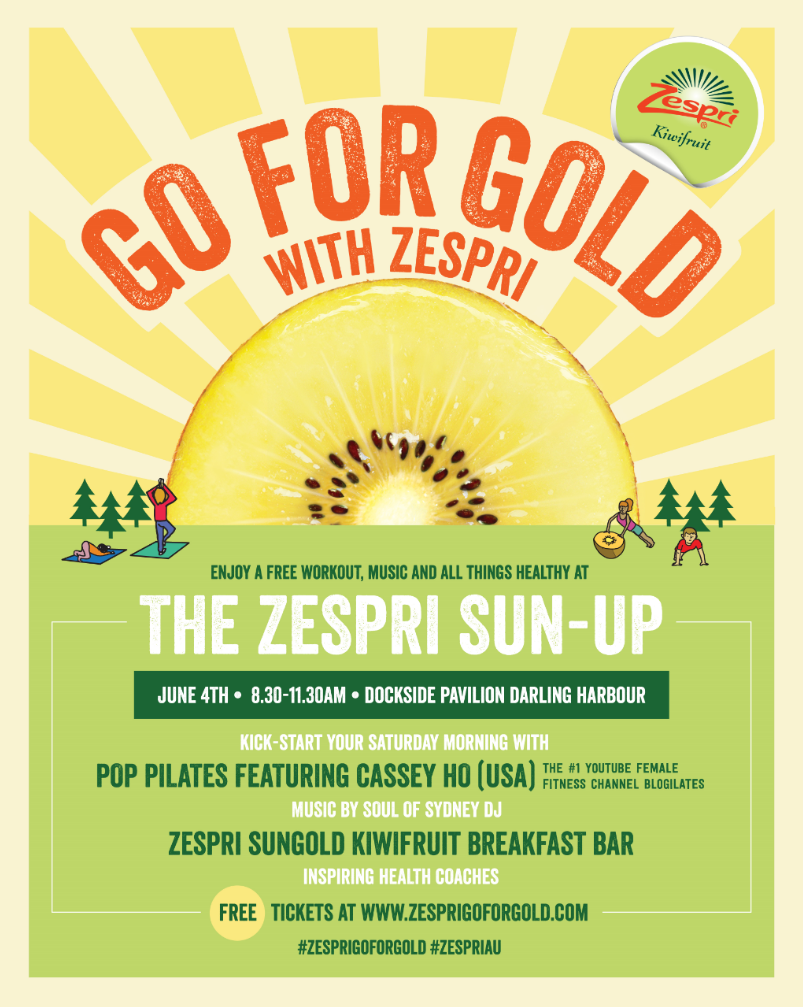 Meredith Cranmer, Founder and Managing Director of Because Australia, will be donning her workout gear for The Zespri Sun-Up. She said: "This is set to be a great event, bringing together all things health, fitness and most importantly fun! Inspired by the nutrition-packed Zespri SunGold Kiwifruit, we want to show people what a really great (and Gold!) start to the day feels like."
Click here to register for The Zespri Sun-Up for free.
Event Partners include: Chobani, ClassPass, Perkii, Visionscope