Two years ago I graduated with my Bachelor's degree in International Hotel and Tourism Management from Bond University in Australia.
During my time as a student, I had all sorts of jobs, I worked at Walt Disney World in the US, I volunteered in Kenya, I took part in a Resort Management internship in the Whitsundays and I did a few other internships here and there in my home town, Sao Paulo, Brazil.
Despite all those experiences, I never felt like I had the right job. There was one thing I knew for sure: I wanted to work in events, because it was what I truly loved.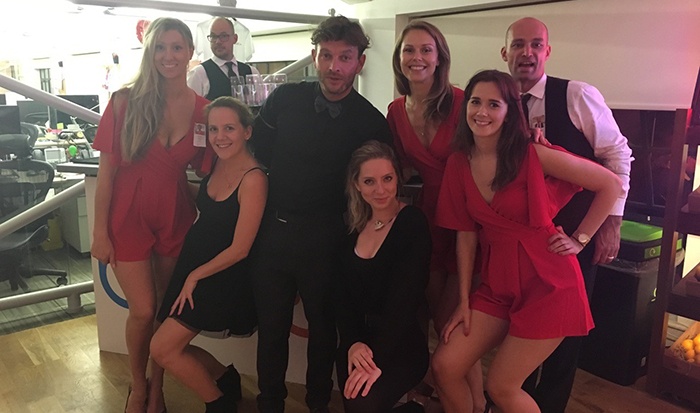 In my mid-twenties, I had my "What to do with my life?" crisis, and fortuitously, I came across Because's website.
The more I read about the company, the more connected I felt to it. And lucky for me, my timing was spot on as they had a Graduate Scheme position available.
I wasn't a recent graduate, but I knew it sounded like the right role for me, so I went for it. And I got it!
What came after that was a journey full of unforgettable new experiences.
So what have I learned since I started here 4 months ago? Well, for each month, I learned a crucial lesson, which I've shared below:
Do what you love
I love the challenge of thinking outside the box to come up with ideas for new events. Working in experiential marketing allows me to do exactly that. This industry – and channel – is interesting and challenging, and each day is completely different.
Since my first day, I've worked a few different events, and each one involved a different client, a different strategy and a different challenge. which means I'm learning each and every day.
Put yourself in someone else's shoes
In order to understand what's required to pull off a successful event, grads (and the whole Because team) are encouraged to step into the shoes of a brand ambassador. When it was my turn, I worked at the Ascot Food & Wine Festival at the Racecourses with other girls from our team.
It was a great opportunity to experience the job from the brand ambassador's perspective – at the coal face – to understand their challenges, the skills they need, and how to deal with different and sometimes stressful situations. It really made me understand the difficult and wonderful job they do. The insight I gained also allowed me to do my job better as well.
Be committed to helping others
One of my favourite things about Because is the social awareness of this company and that "It's good to give back to the world" feeling that comes with it. We often host different activities for the team to raise funds for our charity, ADD Positivity.
My second month here, I volunteered to be the chef for our fundraising team lunch. I brought traditional Brazilian canapes, Caipirinhas to drink and the famous Brigadeiro for dessert. It was delicious, but the best part is that we managed to raise some money for a great cause.
Be proud of your success
At Because we have a monthly company meeting where the senior team share their experiences and knowledge, recognise people's hard work and motivate us all to keep doing our best! It is good to see that our management team recognises the importance of maintaining a healthy and open communication system within the business, and that they put that in practice through meetings, reward systems, workshops and team updates.
In my opinion, this is one of the features that makes the Because team great at what they do. Lucky for me, I was voted employee at our month last company meeting. Go me 🙂
What's more, I'm happy to announce that after three months in the graduate scheme, I was made a permanent member of the team as an Account Executive.
I can't wait to see what else is in store for me as I head out on this new journey as a veritable 'Because-er'.
Interested in joining our graduate scheme? Drop us an email with your CV and we'll be in touch.