As the London Marathon gets closer by the day, regular runners, fitness fanatics and charity fund-raisers alike don their running shoes in preparation to join the 26-mile race through the streets of the UK capital.
The event is growing in popularity and last year attracted over 40,000 competitors, creating a huge opportunity for sports brands to raise awareness with a targeted audience.
Capturing the attention of marathon newcomers this year, New Balance teamed up with fitness app Strava to provide those who are more used to pounding pints than the pavement with some much-needed motivation.
Users of the Strava app, which tracks and analyses data from runs and walks, could download a 'Runaway Card' which allowed them to partake in milestone-based challenges set by the partnership.
To the runners' delight, in exchange for their blisters and aching muscles, those who completed 100% of a challenge would receive three free drinks each for themselves and a friend at The Runaway: the world's first pop-up pub where joggers could cash in their miles in exchange for pints.
In the weeks leading up to the race, four different running challenges were released on Strava, with distances ranging from 13 miles in a week to a full 10k run. Completing 50% of the challenge would still get each participant and their friend two beers a piece; encouraging participation from all kinds of abilities.
Fully owning the experience, New Balance branded the duke box, dart board, glasses, beer mats and just about any other furnishing that could be found in a traditional pub. The establishment even featured custom frosted windows with the silhouettes of runners alongside the New Balance logo.
As well as a place to unwind and enjoy a hard-earned beverage, patrons of The Runaway had access to a weights area and gym below, for those who wanted to work on strength training together with cardio. With thought for the punters at every turn, it is easy to see how a night at The Runaway could build brand love and leave a lasting impression.
Highly engaging and shareable, The Runaway is the branded experience at the heart of New Balance's wider Everybody's Race campaign, which was designed to inspire marathon competitors with motivational digital and social content and influencer marketing. This included hero activations, live coverage and emotive storytelling across social media platforms that united and inspired runners to share their New Balance experience.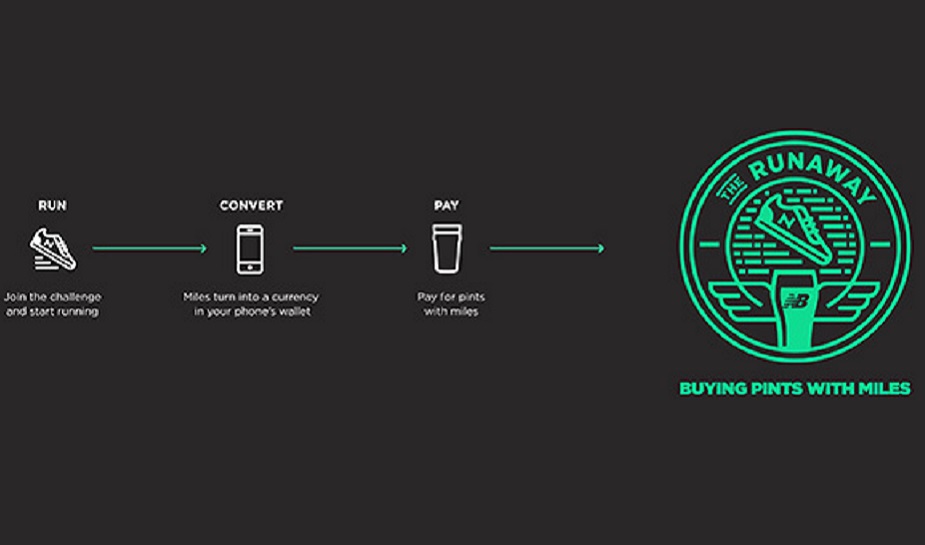 With over 6,000 participants signed up to the Strava challenges and well over 100,000 miles run, the campaign got off to a roaring start.
This isn't the first time we have seen brands ask for things from a customer in exchange for a branded experience. Sol asked for businessmen's ties in exchange for a cold bottle of Sol and Bio Suisse showed appreciation to their cows with the Cow Massage exchange.