With a population of over 8 million people, life in Bangkok can be pretty hectic and stressful sometimes.
Tesco Lotus Express, Thailand's grocery store chain and subsidiary of the British retailer, wanted to remind busy people living in the thriving city that small things in life can still raise a smile. It's just a matter of taking a small window of time to appreciate the moment.
Tesco's brand experience campaign recognises the amount of work that goes into keeping such a big city moving forward. Whether it's selling food, managing the streets or spending the day studying at university, Tesco Lotus Express wanted to give residents throughout Bangkok something to smile about.
The brand decided to offer up a series of special surprises to encourage the city's inhabitants to take a moment out of their fully-packed days, by delivering delicious hot beverages supported by feel-good messages. But they weren't going to be delivered in any ordinary way…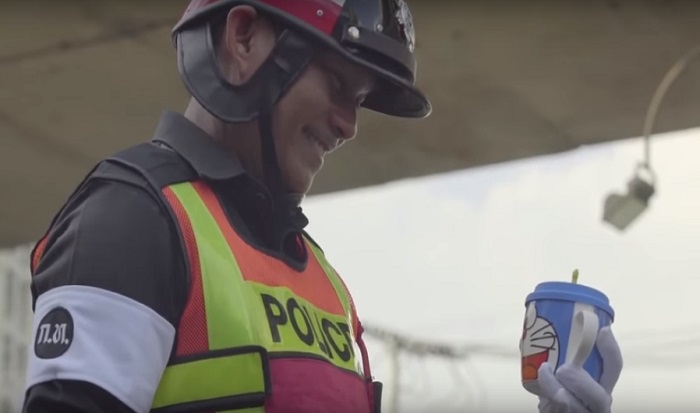 Eye-catching mugs featuring the particularly cute Japanese manga character Doraemon were transported to people around Bangkok via remote control cars, drifting balloons and even drones!
Attached to the mugs were uplifting messages such as 'keep up the good work' and 'thanks for your untiring effort for the benefit of all.' How lovely. After getting over the initial surprise of how the hot drinks had arrived into their hands, the smiles created were priceless.
See the special deliveries here:
With the Tesco Lotus Express branding visible on the bottom of the mugs, it soon becomes clear who lies behind this fun brand experience. The campaign aimed to promote the grocery store to people throughout the city, and it did so by taking an inventive approach to creating a memorable brand moment and laying the foundation for future brand love.
The combination of an inventive delivery method, a kind message and a very satisfying beverage makes the campaign very enjoyable to watch, with Tesco using a simple idea and messaging to make a difference to someone's day.
Microsoft recently did something similar, delivering an act of seasonal kindness directly to rivals Apple. Both campaigns aimed for the same outcome: bringing a smile to people's faces and boosting brand awareness in the right way.