How do you begin to engage with Generation Z?
Today's young people are more switch-on and tech-savvy that any generation that's come before. It takes a lot to cut through the noise with a generation that has redefined what it is to be connected.
This was the challenge that Sprite faced. Its solution? To take their brand to where the conversations are happening.
The soft drink brand's latest campaign in Brazil taps into the huge popularity of Snapchat. The instant messaging platform now boasts over 100 million daily active users, over two-thirds of which are under the age of 25. Forget Facebook, when it comes to reaching out to Gen Z, Snapchat is the place to be.
Sprite offered up a brand experience that catered directly to the interests of a clearly-defined target audience. Planting 15 different Snapchat codes on its cans throughout Brazil, consumers were encouraged to scan the code using their phone. In return, they would receive access to exclusive video content from a host of carefully-selected Brazilian web celebrities and influencers, from skateboarders to singers to graffiti artists.
Take a look for yourself:
The campaign is a big coup for Sprite. It marks the first time that Snapchat has allowed its logo to be paired with a product in such a prominent fashion. The collaboration has paid off big time.
The "RFRSH Na Lata" campaign, which has turned Sprite cans into digital touchpoints, received more than 2m views to its content in just a few days. Consumers are also being encouraged to send their own Snapcodes in for a chance to have their Snapchat account featured across millions of cans. It's a clear example of a brand understanding its audience and executing a campaign that provides strong benefits that the consumer actually cares about.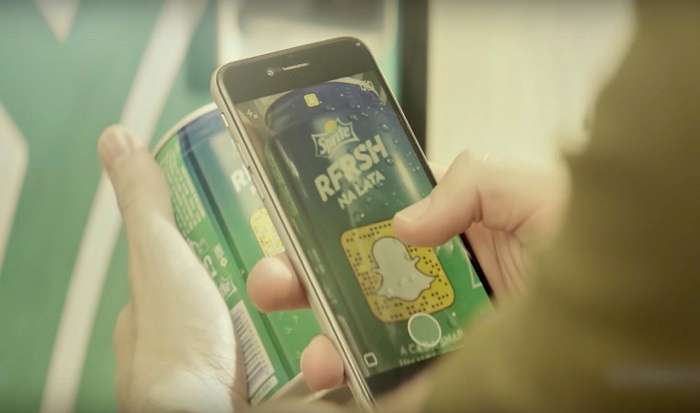 Sprite's campaign shows just how important it is to plan a campaign carefully and execute it with a clear target in mind. Whether it's the always-on Generation Z, desensitised millennials or a very specific demographic, knowing your audience's wants and needs is crucial to building brand love and loyalty.
Coke took a similar approach recently, delivering an experiential campaign in support of Hispanic Heritage Month. Both leave a lasting-impression and a refreshing aftertaste for the consumer, one that's destined to be remembered the next time they are faced with a choice at the vending machine.
What more could you ask for?