Long gone are the days when a billboard along the side of a busy highway was the most effective way to capture an audience's attention. Times have moved on, consumer expectations have evolved and marketing campaigns have grown up. Yet brands continue to rely on this traditional channel to spark conversation and interest amongst target audiences.
Sodimac Homecentre, a chain of home improvement stores, decided it was time to stand out from the sea of roadside adverts. To do so, it created an incredible virtual reality activation.
Representatives from Sodimac Homecentre gave travelers embarking on a journey along the Pan-American Highway, Peru's most traveled road during the summer months, cardboard VR headsets.
When passengers inserted their phones into the headset and activated several specially created immersive 360˚ films, they were able to witness Sodimac Homecentre's advert in a whole new light. Younger travelers in particular were stunned by the incredible sights appearing right before their very eyes in incredible virtual reality.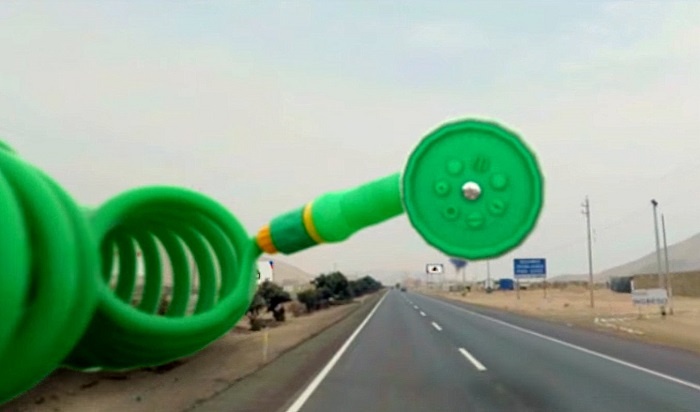 VR technology cleverly created the illusion that giant, animated products – all available at Sodimac's stores, of course – were being brought to life, energetically interacting with the highway's landscape.
The 'Hijacked Highway' stunt allowed a very focused audience to experience an unforgettable and unique road trip that centered completely around the brand.
Sodimac Homecentre saw an opportunity to completely redecorate the advertising landscape along the Pan-American Highway, enabling it to stand out from the competition.
Virtual reality is becoming ever more popular and brands are becoming increasingly attracted to its ability to bring the impossible to life.
Take a look at when this VR campaign enabled Swiss children to experience their dream homes or when Dali Museum's VR stunt gave art fans the chance to delve into the world of a famous painting.