It takes a lot to capture the attention and interest of target audiences these days – especially in busy public spaces where countless brands are competing with one another for the same consumers.
When it comes to experiential marketing success, creativity, innovation and imagination are three vital ingredients. And it's perhaps the third of these that's most important in terms of making a big impact.
To launch PANDORA Shine, a new 18 carat gold-plated sterling silver collection from the long-established jewellers, Pandora delivered a live brand experience with a quirky twist and a huge amount of visual standout.
The brand recently built a vast golden beehive and placed it right in the heart of Sydney's bustling and iconic Pitt Street Mall thoroughfare. The 5-metre tall activation instantly attracted crowds, who were surprised to learn of the inspiration behind the new collection: bees.
Intrigued shoppers were openly encouraged to enter 'The Hive' by a team of brand ambassadors. Upon walking through the entrance of the 'beehive', visitors were greeted with incredible, opulent sights and smells, transporting them into the heart of a real beehive but in a highly decadent fashion.
The multi-sensory beehive appealed to multiple senses, with 'Humming Hubs' that emitted the sound of bees, alongside LED light panels that mimicked the movement of bees. Visitors delighted in smelling the scents on offer and being in such a unique environment, and took the opportunity to have their photos taken within the unexpected structure and pose for selfies.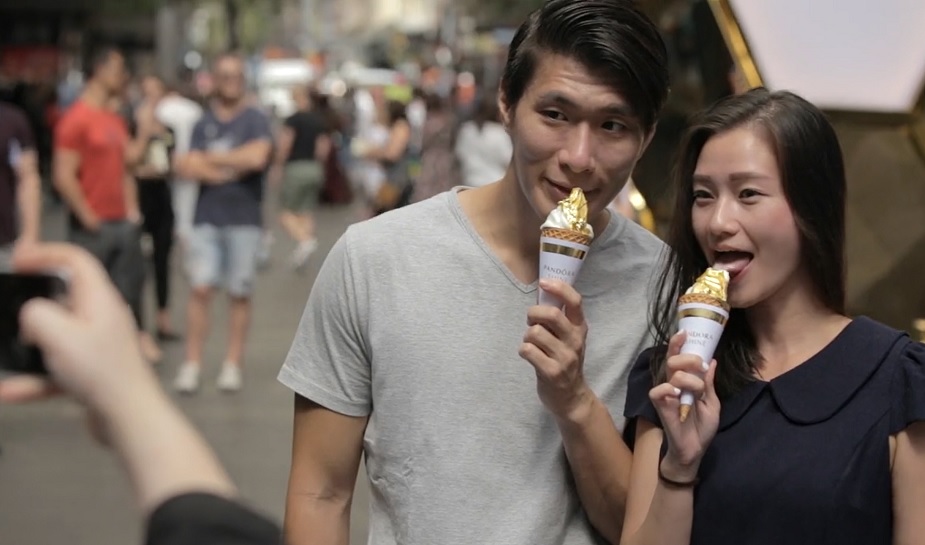 At the heart of the activation, of course, lay the new collection, with the jewellery displayed proudly within scent-infused stigmas of gold-plated flowers. The surprising brand experience was capped off with 'gold-tipped' ice creams – a sure-fire way to introduce new fans to the brand and delight existing customers.
And to make sure that the new collection couldn't possibly be missed, branded gold cars adorned with giant bee sculptures on their roof also drove around Sydney's streets. "We wanted to bring the PANDORA Shine campaign to life in a way that engages all the senses," Glenda Wolman, vice president, marketing for Pandora in Australia and New Zealand told Inside Retail.
PANDORA is not the first brand to deliver a memorable brand experience that taps into all of the senses.
Woolworths, the fresh food people, took fans on a unique food journey at last year's Australian Open Tennis Championships in Melbourne, appealing to all five senses with 'A Taste of Australian Summer' that offered fans the opportunity to see, touch, hear, smell and taste Woolworths' fresh seasonal produce inside a giant geodesic dome.
Elsewhere, indulgent French cheese brand Boursin picked up a string of awards for its 'Boursin Sensorium' virtual reality roadshow that allowed participants to virtually explore the contents of a fridge and experience the best Boursin ingredients up close.