Anna Bradshaw, Account Director at our Sydney based office, takes a look at one of Australia's top integrated campaigns of the moment.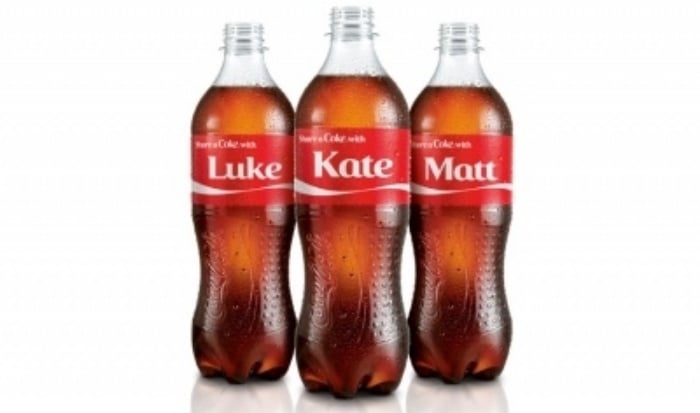 Anna applauds the unsung heroes behind the campaign's execution.
Going into any branch of Coles, Woolies or your local convenience store in recent weeks, you couldn't help but notice the 'Share a Coke' campaign, featuring different first names printed on bottles of Coca-Cola. In the first phase of the campaign which launched in the Autumn, Australians could pick up a personalised bottle, or buy a can and get it personalised at one of 18 Westfield shopping centres. Widely supported by out of home and social media, the campaign quickly captured the imagination of local consumers.
A second phase had over 30,000 fans voting on the next 50 names to release, results were announced in mid-December, and those winning names have already been on shelves throughout this month. At first, like many others, I was struck by the genius of such a simple idea. It taps wonderfully into the brands iconic nature and people's love of personalisation. In doing so, it invigorates the brand keeping it top of mind whilst also being a strong sales driver which doesn't erode value. But then I went on to thinking that though this is a simple idea – as is all too often the case with integrated brand experiences – making them happen isn't all that simple.
The unsung heroes of this campaign are the print, production, logistics and supply chain departments. A great idea poorly executed, goes back to being a weak idea – the devil is in the detail. This campaign would fall flat if the labels were a significantly different quality to that of the real thing, or the time lag between the names being decided upon and them appearing in-store was too great, or if the different names weren't evenly distributed across the country.
This is a truly integrated campaign which works not only across different consumer touch-points, but also across different client and agency disciplines. It's a lesson for all brand teams. If ever you find yourself thinking "great idea, but I'm not sure we'd get our Operations team on board to make it happen", be willing to challenge that mindset. Good agencies can certainly deliver great integrated ideas. But excellence in integrated delivery can't come solely from them. The key is getting all areas of your company working in tandem if you want your marketing to fizz and not fall flat.