Using sex in advertising and marketing: it's one of the oldest tricks in the book. But does it work?
In a word, yes. It is actually one of the strongest and most effective selling tools. But that's only if done well and appropriately. If done wrong, you risk putting off your potential customers. Implied and soft sexual messages are safe routes to go down and work just as effectively as a direct message.
According to Psychology for Marketers, we are extremely strongly wired to react to sex. In fact, so strongly, that we will respond to messages that only imply sex.
We've rounded up eight sexy marketing campaigns we've come across for you to read at your pleasure…
1. Lastminute.com: "Sex is everywhere"
Lastminute.com's latest ad no doubt caused many a' jaw drop and giggle fit last Valentine's. In a bid to promote its Valentine's getaways to Europe, the ad featured the very best sexy delights of Europe. Prepare yourselves for an array of phallic symbols…
The spot successfully mixes references to sex with humour that has resulted in it going viral.
2. Moose Knuckles' First Date
Moose Knuckles, Canadian winter coats purveyor, also opted to combine sex with humour in its ad. In the midst of a Canadian winter, an amorous couple can be seen attempting to remove each other's' multiple layers for a full minute before giving up. The ad ends: "Winter is coming. Are you?" with the couple wearing just their underwear and Moose Knuckles coats. A very clever and sexy way of touting the benefits of Moose Knuckles wares.
3. Contrex's Projected Strip Tease
Having aligned itself with a healthy lifestyle and having targeted the female market, mineral water brand Contrex mixed these two factors together to create a rather raunchy projection mapping stunt. A man strip teasing was projected onto a building to motivate participating ladies to pedal faster on exercise bikes placed opposite; the projection was apparently powered by the energy created from the bikes. The faster they pedalled, the faster he stripped.
Read more here.
4. Power Activ's Topless toilet serenade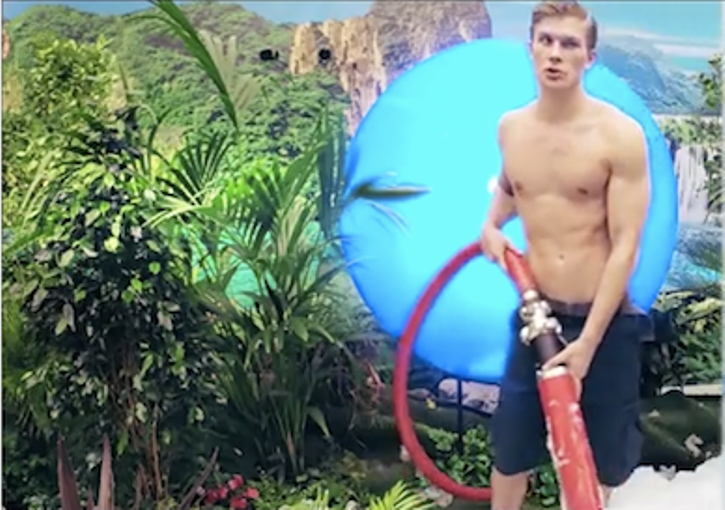 Who knew that toilet cleaner could be sexy?
Unsuspecting ladies had to flush before using the toilet in this campaign – as they did, the bathroom walls lifted to unveil 'The Balls Dream Band'—a semi-clad boy band singing seductively about Power Activ's benefits.
The campaign was also integrated online – you could "Paradise Yourself" – that being, placing your face in amongst four half-naked men and sharing it onto your Facebook and Twitter.
Read more here.
5. McDonald's McDrive Surprise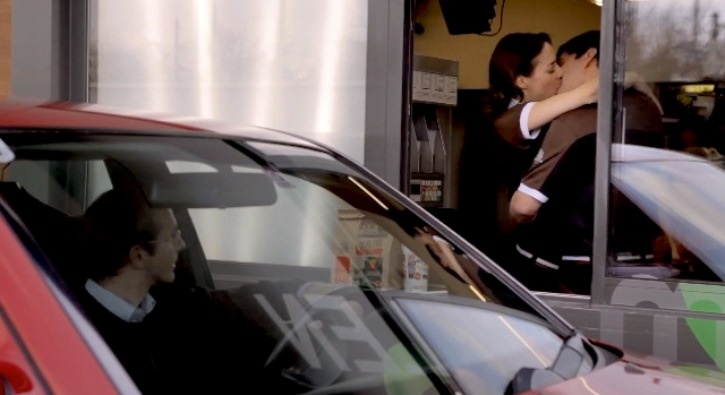 In McDonald's' McDrive Surprise stunt in Austria, drive-thru customers were greeted by a variety of quirky characters, which included a couple in the midst of a steamy moment.
A nice (literally) tongue-in-cheek campaign from the fast food giant.
Read more here.
6. Raunchy billboard promotes TV series and underwear
This raunchy double-sided billboard promoted both the new series of hit TV show True Blood and the underwear brand Mons Royale in Auckland.
A two metre long wooden stake pierced the heart of a True Blood character on one side and protruded in the appropriate place (of course) on the other side of the billboard!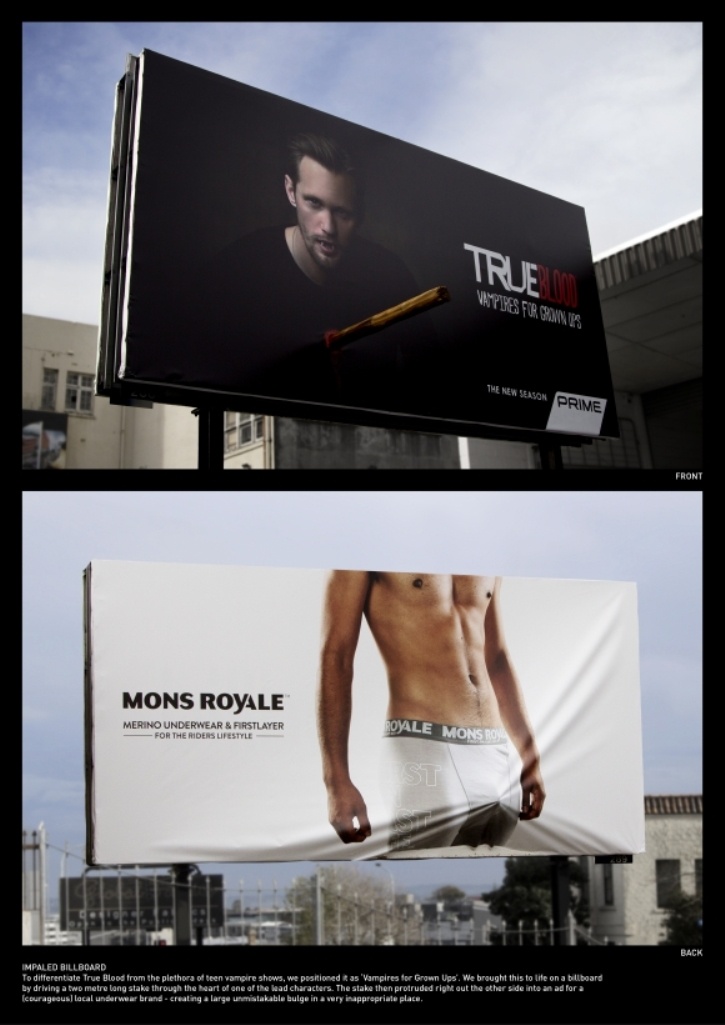 *Spoiler alert* The following campaigns were created by us *Spoiler alert*
7. Ann Summers' catwalk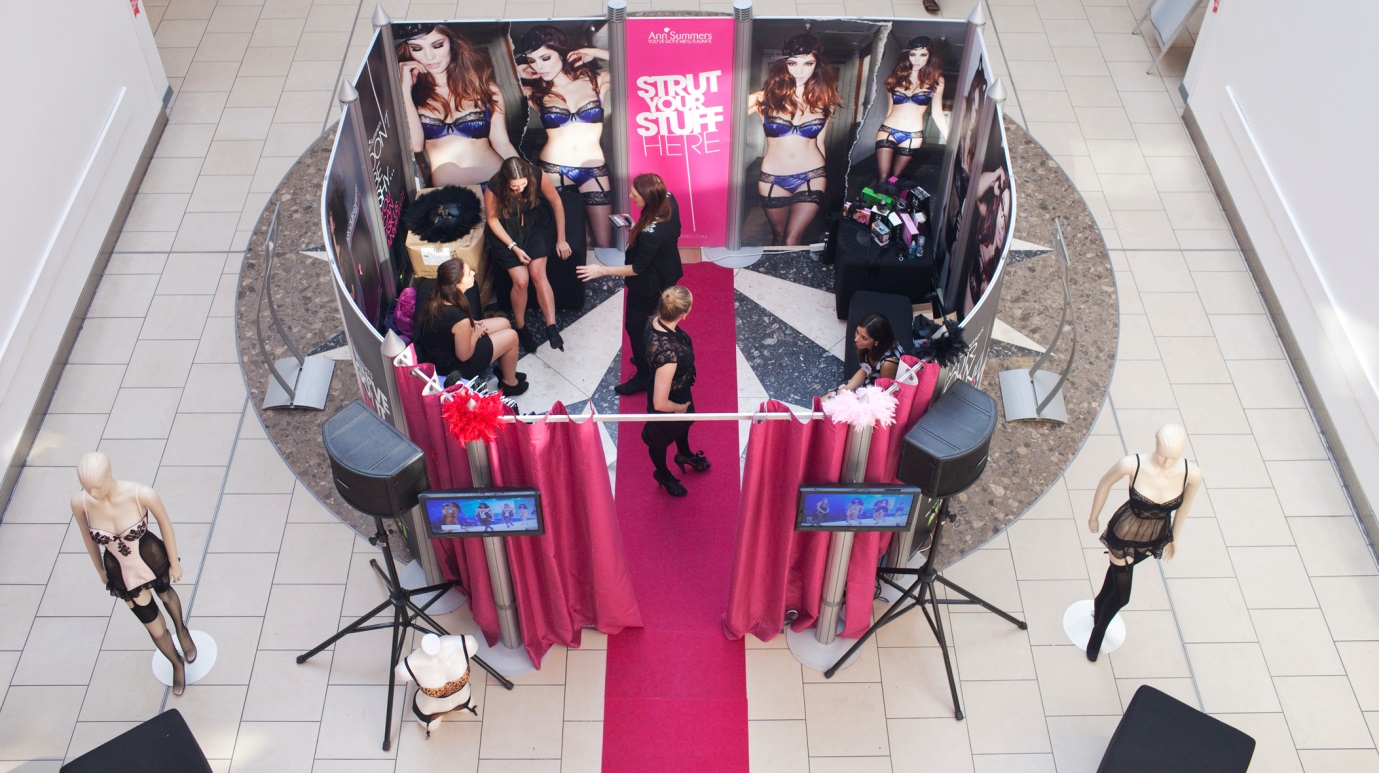 Ann Summers was about to launch its first ever TV advert on ITV2. Our challenge was to find a new face of the brand to star in "TV's sexiest ad". So we created a series of live auditions bringing fun and glamour to four top UK shopping centres over 6 days.
We orchestrated live catwalk shows for local women to "strut their stuff" in front of other shoppers, and warm and friendly Brand Ambassadors encouraged women of all shapes and sizes to get involved.
The activation also included an enclosed boudoir that hosted intimate pop-up Ann Summers parties & lingerie style advice.
8. Durex

We were tasked with arousing interest for the launch of the Durex play range. To do this, we created a stimulating experience at a luxurious venue in London. Journalists were blindfolded and cocooned in headphones that played sensual music on arrival before undergoing a sensory product walk-through. We decked the venue out with purple light projections, a touch-sensitive i-bar and sexy ice sculptures for added atmosphere.