Wouldn't it be great to know what was coming up just around the corner?
Imagine all of the potential crises that could be averted if you could see that cyclist coming before he rode into you, or knew about the person carrying hot coffee before it ended up all over your clean clothes.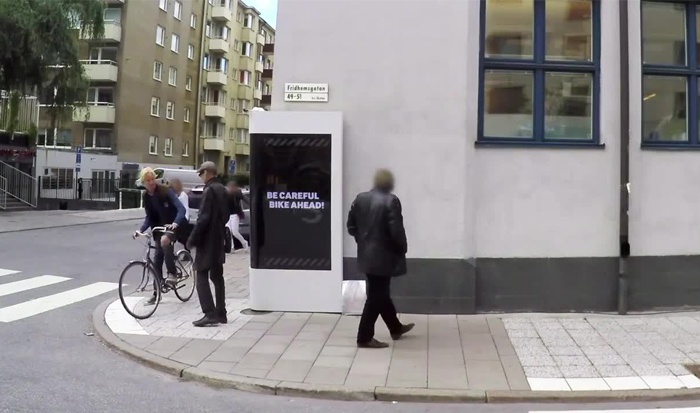 Samsung's very clever use of digital signage technology in Stockholm recently offered up just that in order to promote their new Galaxy 6s Edge+ phone.
To highlight the benefits of the new model's wrap-around screen, Samsung took the same concept to a busy street in the city. The company mimicked the design of its new handset by creating a digital billboard that wrapped around a corner. One that would serve as a live notification system.
As people walked by, the screen flashed personalised warnings about what was quite literally awaiting them around the corner. Notifications such as "I hope you're a dog person" and "Be careful, bike ahead!" quickly interested passers-by, and shocked them as they realised that the billboard had actually foretold their future.
The billboard even revealed its playful side, cheekily telling one couple "you two are cute." How nice.
Samsung's approach to the brand experience was very clever indeed, and is sure to be remembered and talked about by those on the receiving end of some of the more imaginative messages.
Little did passers-by at the time know that powering the billboard was an editorial team sitting inside a nearby café, waiting for just the right moment to deliver the right message for maximum effect.
Similar to La Trobe University's Dance for Parkinson's stunt, this experiential campaign engages with its audience in an imaginative, memorable way by injecting fun into the everyday.