It's no secret that online stores are a popular way to browse, purchase and review products of all kinds from the comfort and convenience of your home.
In fact, in 2018, 8% of all traditional retail spending in Australia was processed online and by 2020, it is predicted that 1 in 10 products will be purchased online.
As a result of this shift in consumer behaviour, many online brands are investing in experiential retail show rooms, including Amazon, eBay, Catch.com.au and most recently Qantas Loyalty. We're very proud to have worked with the latter on their most recent venture, the Qantas Loyalty Rewards Room.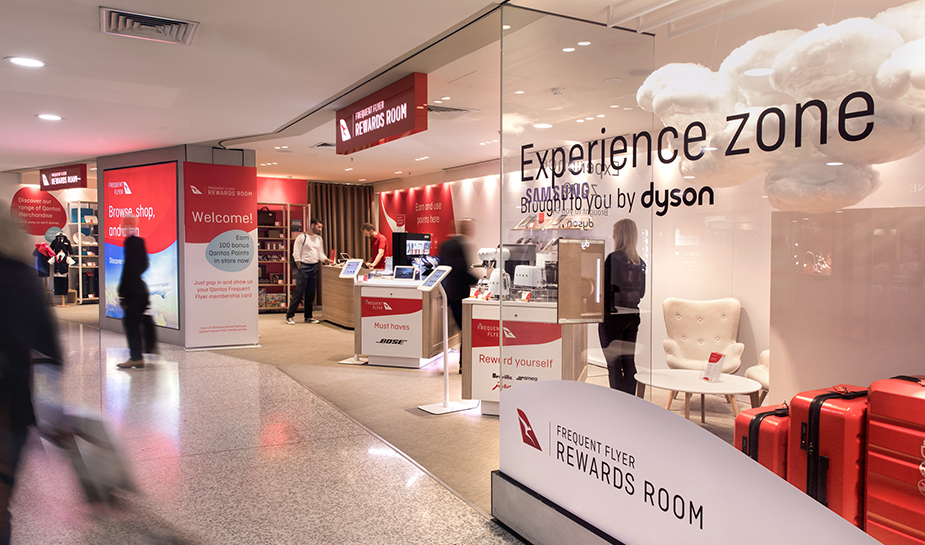 This move from operating solely online to opening physical retail spaces is commonly referred to as 'clicks to bricks' and is helping brands like Qantas redefine what it means to have a bricks and mortar presence in the retail environment. This move shifts the focus from a traditionally product-focused distribution point to more personalised, on-brand experiences for existing customers and members as well as recruit new customers into the program.
For these innovators, their experiential stores are seen as one of a series of touchpoints in the purchasing experience, not necessarily the end destination.
The Rewards Room, a global first, brings to life several different aspects of the Qantas Loyalty Program and demonstrates that the iconic Australian brand is about more than just air travel.
Designed for both frequent and non-frequent travellers, the store is located in Terminal 1 of Melbourne Airport. The stock has been carefully curated and includes Qantas merchandise usually only available online, grab & go products like Bose headphones to enjoy en-route and homewares which can be purchased in-store and conveniently delivered to your door.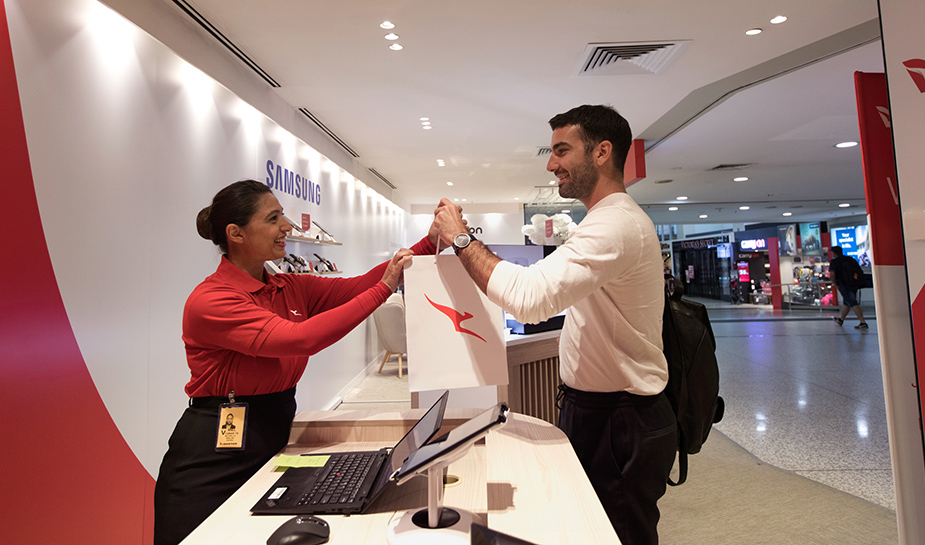 There's also an experience zone where partner brands like Dyson are helping redefine the store experience with a free blow-dry bar while demonstrating their new leading-edge products. Purchasing is easy too, allowing shoppers to use points, cash or a combination of both to make payments.
Staff at the Rewards Room are on-hand to educate customers about how they can make the most of their Qantas Frequent Flyer membership including how to "double dip" your points, helping you earn more without spending more. With over 300 partners and an ever-changing landscape of ways to earn and redeem points, the opportunity to have a face-to-face discussion around maximising their points-earning potential is a valuable proposition for members at all levels of the program.
While the store encourages on-the-spot purchases with significant discounts and seasonal promotions, it also acknowledges the much larger online presence that sits behind this physical offering. Tablets stationed around the Rewards Room are available for customers to browse the much larger online catalogue and to order for home delivery.
The Rewards Room provides consumers with a physical showroom of products previously only available online as well as affording Qantas the opportunity to talk directly to both existing and potential members. Customers are drawn in by the range of products on display, and they leave with a heightened understanding of the Frequent Flyer program and tailored advice on how they can earn and redeem points in a way that works best for them.
Through this tactile experience and genuine communication, Qantas is increasing product sales, recruiting new customers, building brand loyalty and increasing engagement among their existing network.