Sports cars maybe fast, sleek and highly desirable, yet with limited passenger space and a high price tag, they are an impractical dream for most people.
For almost as long as automobiles have existed, model cars have been a substitute for enthusiasts who can't have the real thing.
Since the 1920s, children have saved up pocket money to buy their favourite model in the hopes of one day being able to drive the full-sized version.
Exploring this near-century old trend, Porsche created the Cayenne Model Wall, a branded wall with 750 Porsche Cayenne miniatures affixed to the side. Much to people's delight, the replicas, which were 43 times smaller than the original, were free for anyone to take.
With each car that was removed, part of a message was revealed on the wall that said "Cayenne, the world's most shareable sports car."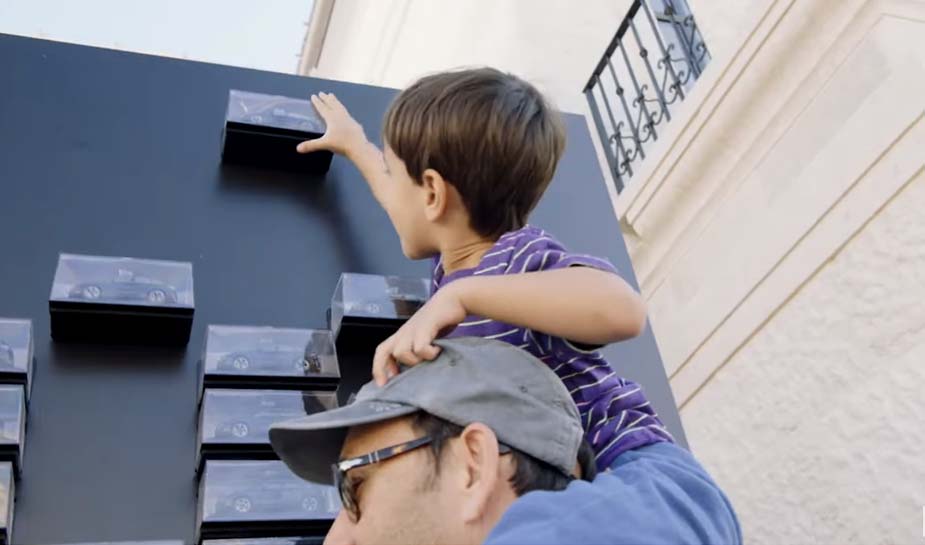 The imaginative installation reflected a key theme for the new model of Porsche – sharing – as unlike traditional sports cars, the Cayenne has five seats for transporting family and friends.
The highly-impactful event was filmed with time-lapse footage showing the wall being built and fans happily removing the free cars which were "gone as fast as you'd expect from a Porsche". It was shared through a paid social media campaign to amplify audience reach and build brand love.
Further immersing fans into the world of Porsche, the memorable brand experience was part of a wider brand takeover of Palisades Village, a picturesque shopping village in Los Angeles which included a virtual-reality driving simulator, crafts and games, and geo-targeted social filters.
"What I love about this idea is the engagement it begs, the way it literally puts a Porsche in your hands," stated Marshal Ross, chief creative officer. "It's also a really smart way to get people to think about the sports car experience in a new way, a social way. That's the thing about sports cars people don't often recognise: They're fun to drive. But they're really fun to share."
Eye-catching and highly-effective, Porsche left a lasting, positive impression while raising awareness of the Cayenne's unique selling point and rewarding brand loyalty.
This isn't the first time Porsche has created a memorable experience for fans that celebrated the unique characteristics of its cars. Its multi-sensory pop-up immersed fans in the stories and sounds of the brand's heritage, while another luxury car maker, Cadillac, brought the premium features of the CT6 model to life with an innovative VR experience.