Super Bowl Sunday is the biggest day of the year for NFL fans worldwide – the single greatest, and most hotly-contested, championship game of the entire American Football season.
Friends and family across the US and beyond come together to marvel at the spectacle, the grandeur and the showmanship – and an incredible 52 years on, it gets bigger and better every year.
But, of course, what happens out there on the field is only half the draw for audiences. The Super Bowl's half time performances – and commercial breaks – have become the stuff of legend in recent years, with legendary spending from some of the world's biggest brands: a 30-second half time spot cost advertisers an incredible $5m last year to reach an audience of, on average, 100 million US viewers.
For 2018's mega-event, Pepsi took its moment in the spotlight with a truly global audience to put forward its 'Pepsi Generations' campaign with 'This Is The Pepsi', reminding audiences of the brand's long-standing, thirst-quenching heritage.
And to really bring the message to life, Pepsi added an extra dimension to its campaign: virtual reality.
'Pepsi Go Back' sees the soft drinks giant team up with technology juggernaut Google to deliver a WebVR experience that enables fans to travel back through time.
Racing against the 'Back to the Future' DeLorean (because, let's face it, who hasn't imagined doing that at least once?), fans are put in the hot seat as they whizz through past generations and are plunged into the set-pieces for some of the biggest moments in the brand's pop culture history.
And yes, that of course includes Cindy Crawford's unforgettable commercial for the brand.
The WebVR journey through time is "one wild ride", allowing users to look around the environment, unlock cool stuff while doing so and get truly immersed in the brand and its long history. Available to any smartphone users with access to a VR headset, and on desktop browsers as a 2D version, it's a nostalgia-dipped dose of fun from Pepsi, which received a wider live rollout over Super Bowl weekend with a pop-up VR experience near U.S. Bank Stadium in Minneapolis.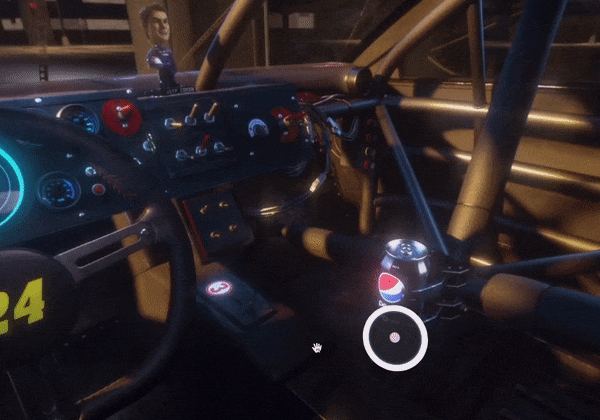 Google Zoo's chief creative director, Mike Yapp, told AdWeek that the partnership between Pepsi and Google is all about triggering memories: "Sense perception is so strong, that we felt like if what we're talking about is nostalgia, if what we're talking about here is going back and seeing what these were about and remembering what Pepsi means to your life then, we thought one of the best experiences you can do digitally is through VR."
Pepsi and Google's latest foray into the world of VR unquestionably opens this incredible immersive technology up to an even wider audience, thanks to its close tie-in with the Super Bowl.
And much like we've seen with some other great recent VR activations – from Adidas' dizzying VR climbing experience to Disney Pixar's Coco adventure to the Dali Museum's unforgettable artistic exploration – it shows that the only limit to virtual reality right now is the human imagination.