Paddy Power is no stranger to delivering experiential stunts that provoke public outrage, amusement or disbelief but garner worldwide media attention.
With the Pope's upcoming visit to Ireland, the infamous online booking site took the opportunity create a stunt that would shock and entertain while bringing the brand into the spotlight.
Firstly, Paddy Power did its research. It commissioned a survey and found that more than a quarter of Irish people haven't attended confession for 10 years or more, and 80% said they didn't confess regularly.
The survey also asked if it was convenient to attend confession, and the majority said no.
From this data, an idea was born. To make confession more convenient ahead of the Pope's visit, the irreverent book maker created a giant drive-thru confessional and erected it just across the road from Phoenix Park; where 500,000 people are expected to gather for the first papal visit to Ireland since 1979.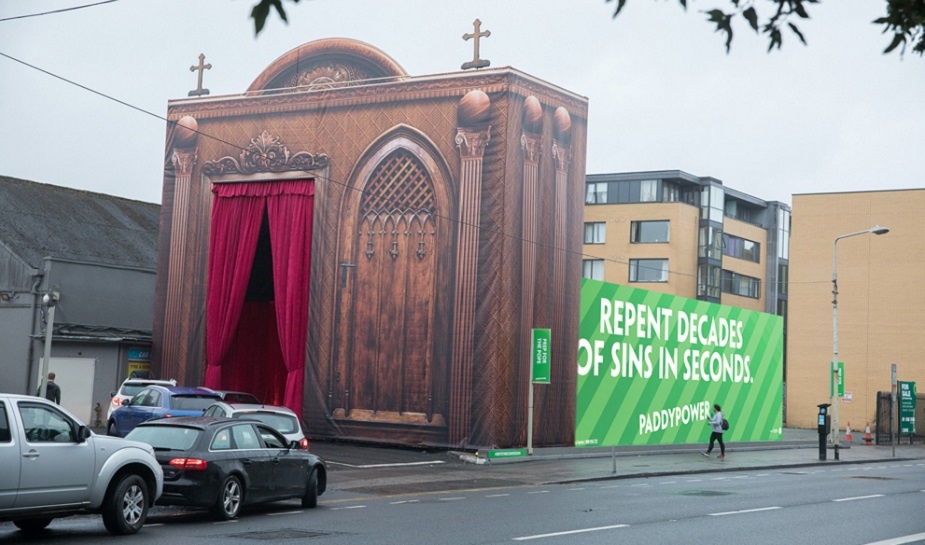 The huge confessional booth invites Irish Catholics to 'repent decades of sins', 'clear their conscience on-the-go' and go from 'sinner to winner' ahead of the Pope's visit.
The large size of the structure allows for motorists to stay in the car and simply wind down their windows to express their sins. Waiting to hear their confessions, a man, in the role of a priest, is stationed inside the confessional and is only visible through a small window.
A Paddy Power spokesperson said: "Ireland has changed a lot since the last Pope's visit – gay marriage is legal, we've repealed the Eighth Amendment, and even secretly cheered for England in the World Cup.
"With decades worth of sins clocked up since then, we're providing a convenient means to complete your contrition with your keys still in the ignition."
Unsurprisingly, the stunt has been widely reported on and will no doubt receive mixed reviews. Though the brand is no stranger to criticism after multiple complaints to the Advertising Standards Authority (ASA) over the years for the brand's more controversial campaigns.
This isn't the first time Paddy Power has used a high-profile event to get its name in the press. Ahead of the European Football Championships, the brand unveiled a giant 'Roy the Redeemer' cut-out above the White Cliffs of Dover.
It also previously found a clever way of getting around legal restrictions while incidentally associating the brand with the London Olympics.