It's a possibility that Richard Branson has been hinting about for a while; that space travel will one day be open to tourists.
A reality which is closer than you might think as it's anticipated by 2030, there will be over 5-million space tourists.
Yet a lot needs to be done in that time to make space travel an enjoyable experience for the public. For example, carbonated drinks don't fare well out of the earth's atmosphere, meaning that tourists couldn't enjoy a glass of bubbly during their travels. However, this is a problem that could soon be rectified.
Taking one small step towards space tourism, and one giant leap for astronauts, French champagne maker, Maison Mumm is working on the world's first gravity-defying champagne.
Known as the Mumm Grand Cordon Stellar Project, Maison Mumm together with space design agency, Spade, are developing a revolutionary feat of technology to overcome the challenges of drinking fizz in zero gravity.
The innovative bottle and glass concept, which is anticipated to launch in September, is set to transform life away from earth.
To overcome the challenge of getting the liquid out of the bottle, the pioneering design will use the gas from the champagne to propel the liquid into the air where it floats around in an effervescent ball of foam until it is gathered up in a specially-designed glass. As well as being created to carry the champagne, the glass also enables the drinker to raise a toast and clink glasses with another.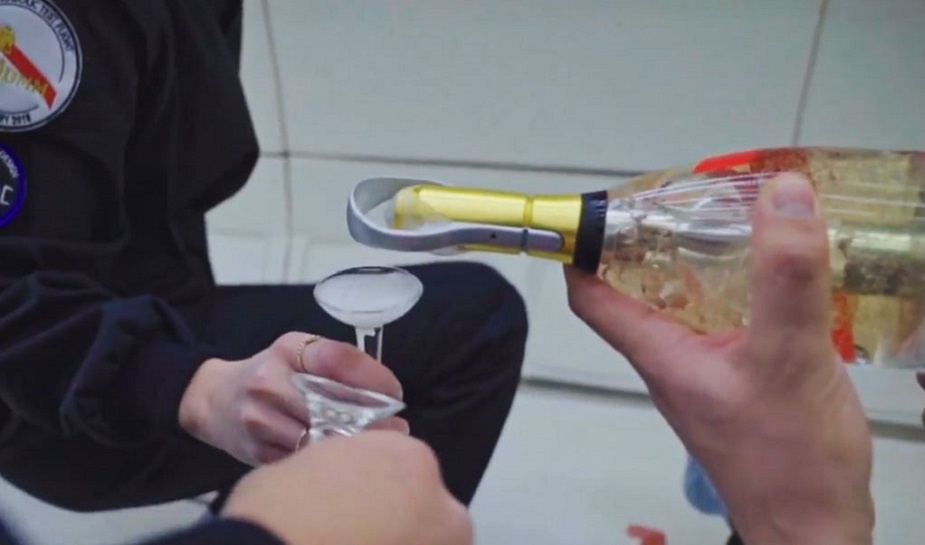 The champagne will also have its own unique taste profile which hits the tongue when the ball of champagne foam bursts into a refreshing liquid. Mumm's Cellar Master Didier Mariotti says "because of zero gravity, the liquid instantly coats the entire inside of the mouth, magnifying the taste sensations."
The whole project is designed to help space travellers feel more human and carry out the same joyous experiences as they might do on earth. The French drinks brand hopes that the ground-breaking project will be made more widely available.
To help raise awareness, Maison Mumm's new champagne will be served on board a unique zero gravity experience in the Champagne region of France where a host of international celebrities will get to test out the sensation.
This isn't the first time a brand has used impressive design and engineering techniques to defy gravity: Dairy Queen effectively demonstrated the creaminess of its Blizzard ice-cream with an eye-catching upside-down store. And this unbelievably good stunt from Mattel took the brand's toy cars to new heights with a nail-biting record attempt that went viral.