Brits love a festival.
From Glastonbury to Reading, Download to Bestival, there is a weekend of music, dancing and camping to suit everyone.
While undeterred by bad weather, heavy traffic or a three-mile hike carrying an entire weekend's camping gear, there is one thing that often leaves festival goers with a sour taste – the high price of festival food.
Rescuing hungry, hungover and skint music fans this season, McDonald's stepped in with a unique and immersive activation that paid homage to its golden chicken nuggets.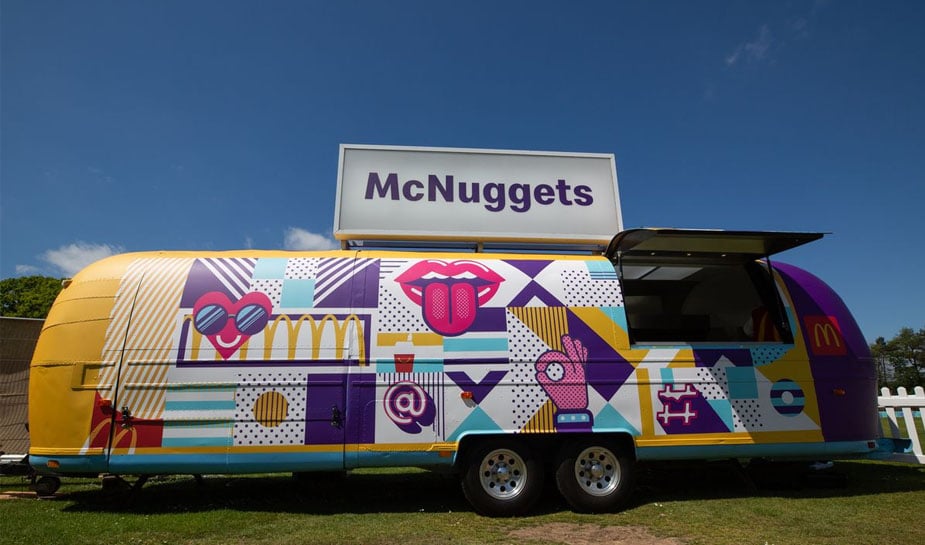 The brand toured a special McNugget Van around several UK festivals, dishing out free Chicken McNuggets alongside a truly interactive experience.
Hitting Wireless, TRNSMT, Y Not?, Reading and Sundown festival, the fully branded mobile pop-up featured a McNugget maze, exclusive augmented reality McNugget lenses and a 360-spinning selfie experience.
Cleverly designed to be highly shareable, the 360-spinning selfie experience generated plenty of fun and silly branded photo opportunities. With a room full of giant nuggets and an upside-down pot of dip for selfie-takers to dunk them in, the brand was able to maximise the social reach of the campaign.
Alongside the experiential campaign, McDonald's ran competitions for festival tickets, giving those who missed out the chance to experience the festival and get their hands on some free McNuggets.
Festivals are clearly a sweet spot for McDonald's in the UK. While the McFlurry Van has delighted punters at festivals over the last few years, now it's the turn of the McNugget.
And we all know how crazy some people can get over their chicken nuggets. After all, the #NuggsforCarter campaign that set Twitter alight in 2017, was the most retweeted tweet of all time.
McDonald's recognised and nurtured love for its McNuggets by targeting young consumers at a time and place where they would crave their chicken treats the most.
This isn't the first time that the fast food giant has created a campaign that embraced and amplified fans love for its food. The Friestream activation had fans shouting from the mountaintops, while the heartwarming campaign which asked people to 'pay with lovin' offered people free food for kindness.