The political landscape in India is changing rapidly, with the general election saturating news channels, social media platforms and even social gatherings.
While as many as 130 million first-time voters will have an opportunity to influence the results of the next election, many will not cast a vote – despite the increased political coverage.
In a demonstration of social conscience, McDonald's delivered a sneaky yet provocative prank to encourage its customers to make their voices heard while they have the opportunity.
To remind young Indian people of the importance of voting, McDonald's took away its customer's choice in a restaurant in Jubilee Hills, Hyderabad, on the same day that the elections were held so they could experience what it is like not to have a choice.
Captured on hidden camera, hungry customers approached the counter to order localised versions of classic MacDonald's dishes, such as the Maharaja Mac Meal, McPaneer, or the McSpicy Burger.
However, if the customer hadn't yet voted, the server automatically put a McVeggie Meal through the till – regardless of what the unwitting customer requested – and then asked for payment. This caused a lot of confusion followed by frustration and disbelief: why weren't they given the meal they had chosen?
To amplify the point, voters who had already attended the polling stations were served without argument, and many refused to help those who hadn't voted to receive their chosen meal.
The campaign had an important message:"If you don't vote, you lose your right to choose". This brand experience had a big impact on the affected customers, who were told there was still time to vote and that if they did, they could choose anything they wanted from the menu.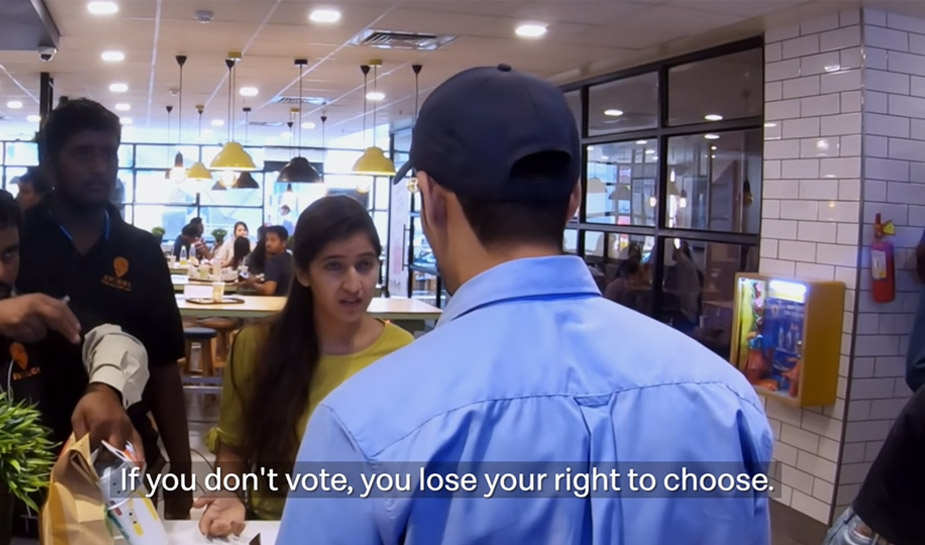 It's been reported that some customers went out to cast a vote before returning to the restaurant to place their order. Powerful, memorable and highly effective, the clever campaign expertly demonstrates its point while positioning McDonald's as a company that cares.
Supported on social media with the hashtag #MakeYourChoice, the video had well over 250,000 views on Instagram alone.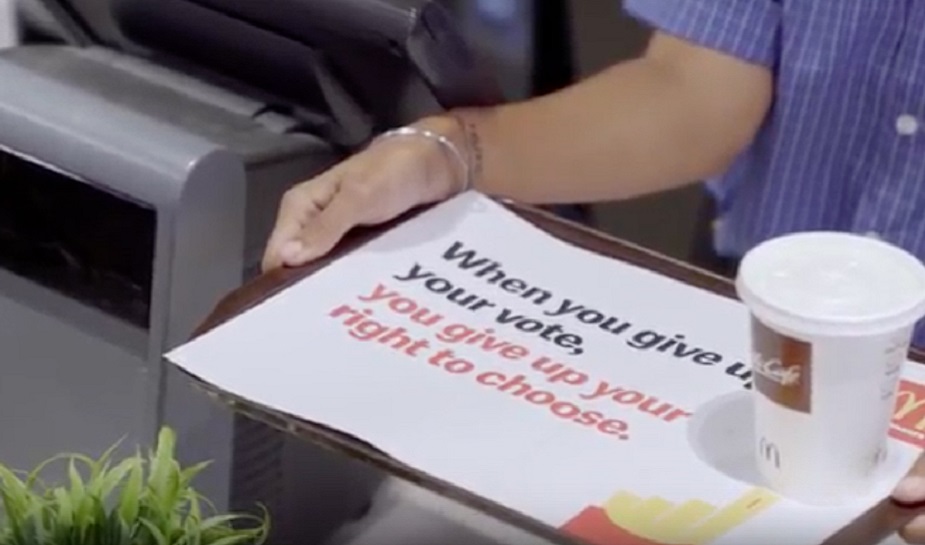 Arvind R.P., Director of Marketing and Communication said, "At McDonald's, we believe in standing up for good. We feel it is our duty as a responsible corporate citizen to drive the change that we want to see in the mindset of the Indian youth."
A growing number of brands, from a variety of sectors, have been focusing more on purpose-driven, thought-provoking campaigns that address social and political issues. We've seen Burger King tackle null votes with the Blank Whopper, and Netflix teamed up with the WWF to tackle climate change.