Doughnuts. Sweet and doughy delights, perfect to go with a cup of coffee.
Krispy Kreme has been an iconic American doughnut brand for years with company artifacts now residing in the Smithsonian's National Museum of American History.
With over 700 stores worldwide, the popular doughnut brand has expanded dramatically since it began in North Carolina in 1937.
Krispy Kreme's first-of-its-kind flagship store is opening in Times Square, New York and we can't wait. An iconic location for America's iconic doughnut brand.
The 4,500ft retail space will delight shoppers with Krispy Kreme's immersive doughnut theatre experience, inviting guests to learn about every aspect of the snack from the mixing of the raw ingredients to the mouth-watering glaze waterfall.
Giving consumers a 'doughnuts-eye-view,' the spectacle can be enjoyed from a seat within the world's largest doughnut box, with stadium-style seating providing a great view of the action.
As well as the doughnut theatre, other immersive and interactive digital activations will provide guests with both group and individual experiences, giving even more reason to visit and building on brand love.
Alongside various pieces of merchandise, shoppers will be able to purchase any of the Krispy Kreme doughnuts from the store 24/7, with the world's largest Hot Light signaling to the masses of people in Times Square that they are available.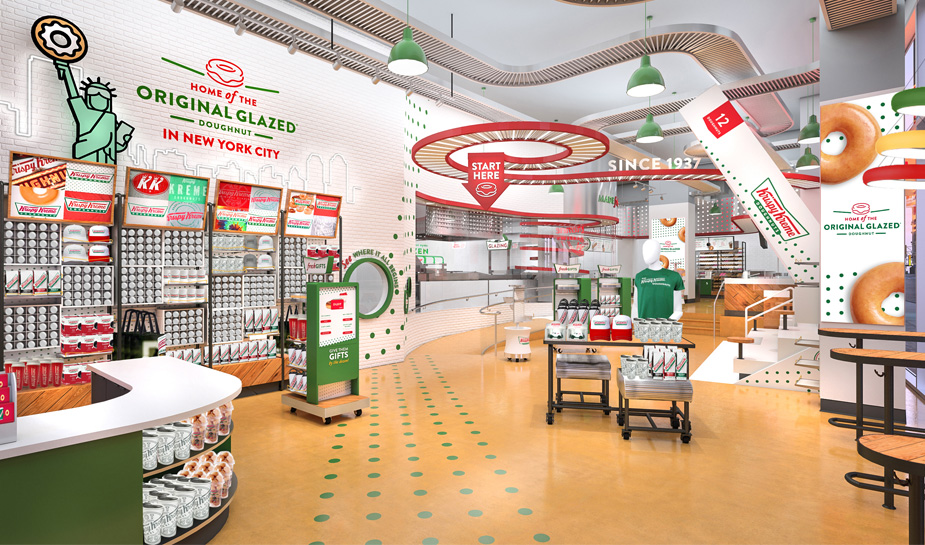 "Our direction is to be the most loved sweet treat brand in the world. In the most iconic city in the world, the Krispy Kreme Times Square Flagship will showcase our brand on the global stage and inspire customer wonder. We love making awesome doughnuts – and New Yorkers deserve hot and fresh doughnuts!" said Michael Tattersfield, CEO and President of Krispy Kreme Doughnut Corporation.
Accommodating passersby who don't have enough time to stop and take in the scene, an exterior walk-up window and grab-and-go counter will be available where people can get their doughnut-fix on the move.
New York's Times Square offers the perfect platform for brands to pull out all the stops and impress people on the street. In the past we have seen a plethora of brands wowing the public with memorable and eye-catching brand activations in the iconic location. Bauducco Foods connected families for Thanksgiving using the famous billboard and the Jamaican Tourist Board turned heads with a giant stress ball.