Most people will know that holding in laughter can be surprisingly difficult sometimes.
But what if you were put to the test? Do you think you could keep a straight face?
That's exactly what KitKat recently challenged students in Brazil to do as part of a fun experiential marketing stunt. Tapping into students' love of playing games (and procrastination), the brand created a digital version of the classic staring contest.
The confectionary brand installed special interactive billboards on two different campuses of a university in Sao Paulo. Kitted out with cameras and facial recognition software, students in different locations around the University were offered the opportunity to compete against each other in a virtual staring contest. That's a pretty hard invitation to turn down!
Standing in front of the billboard, participants could view a live video of their opponent. Once the billboard recognised the faces of a person on each billboard, a countdown started and the game was off. There was just one simple rule to follow: you laugh, you lose!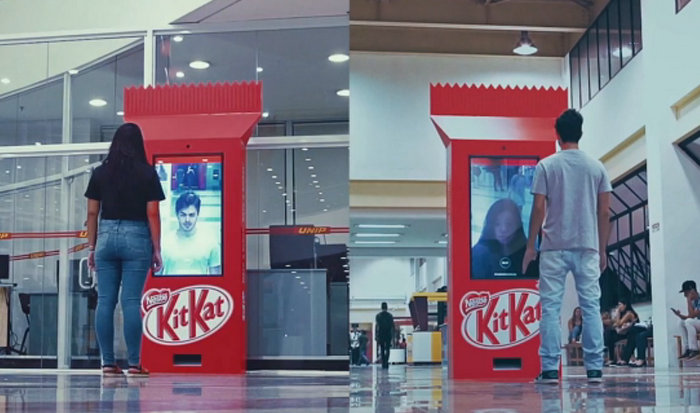 The contestant who held strong and didn't break first was named the winner and rewarded with a free KitKat Chunky bar for their efforts.
Unsurprisingly, the activation attracted a lot of attention, reaching more than 17,000 people. See the game in action here:
If you like this interactive billboard campaign, then you'll love Café Pele's contagious billboard and Fiat's parking poster.