Sweet lord, conferences are tiring.
OK enough whining.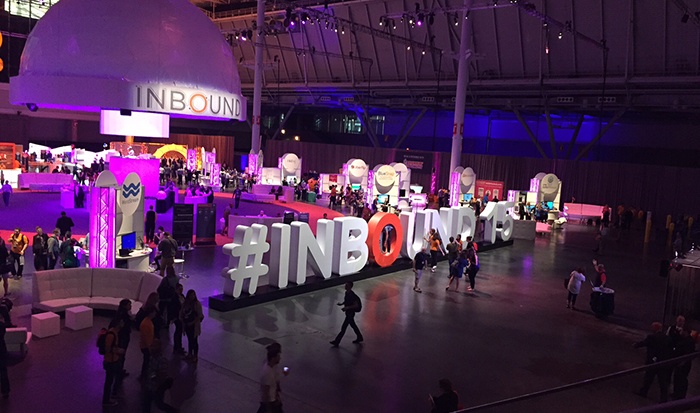 All's fair in love
Day 3 started off with a bang, with comedian and author Aziz Ansari and sociologist Eric Klinenberg talking about the new book they co-wrote called Modern Romance in the first keynote session of the day.
The two discussed the research involved in putting the book together, which focused on how we do romance in a modern world of mobile hookups and breakups, Tinder, online dating and the delay of coupling up and settling down.
I won't reach for some deeper business-focused moral of their story – but their key message is that it's harder than ever to make real meaningful connections with people. And PS this is my favourite picture of him ever.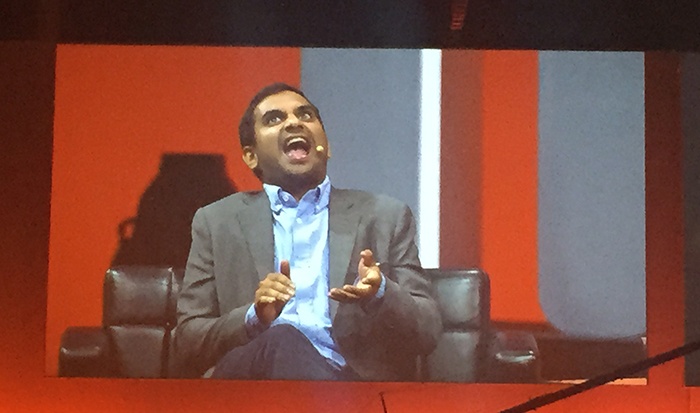 Inbound saved my life
After that, I got pumped up 'Murican style by The Sales Lion (grrrr) Marcus Sheridan. This dude is an inbound marketing evangelist – he went from the brink of bankruptcy during the 2008 recession to the very top of the super sexy swimming pool industry, all thanks to inbound marketing.
Basically, blogs saved this guy's life. And he is crazy for blogs: he thinks everyone in business should blog – by either writing them or being interviewed to extract their knowledge and experience and turn it into searchable content.
And his enthusiasm – and the power of his story – softened even this cynic's black heart – so I highly recommend checking out his podcast. Speaking of podcasts, I followed up this session with a Spotlight talk by American podcaster Marc Maron, which I also highly recommend (notable guests include Barack Obama and Keith Richards). You can check out his WTF podcast here.
I work, you work, WeWork
I took a little break today to visit Boston's WeWork offices located in the historic Fort Point area of the city. The Because London offices are located at WeWork Southbank, so thought I would check out what our sister offices are like across the pond. I got a tour and have to say the place is pretty swish – and decorated totally Americana-style (obviously).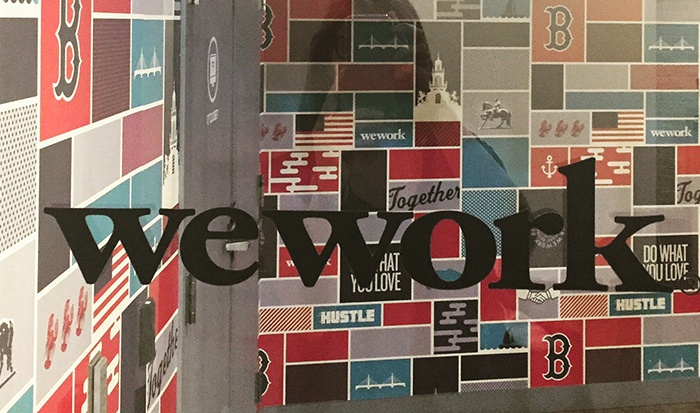 Reviewing referrals
I headed back to Inbound HQ to check out The 30-Minute Marketing Plan: Eliminate The Five Most Common Challenges With Executing Inbound Marketing (holy title, batman) with inbound agency of the year Square 2 Marketing's CMO Eric Keiles.
The best takeaway from this session was that word of mouth marketing is free (and thus, fits everyone's budget) and needs to be a critical part of your lead gen strategy. Secondly, don't just create a bunch of content and expect it to work – you need to optimise (i.e. fix stuff if it's not working) and promote (i.e. go where your audience is and share your content).
The comedy queen
After that I met up with some HubSpot contacts, learned how to use new features on the sales platform and then headed in to see the night's entertainment – comedy from the lovely, talented and foulmouthed Amy Schumer. She was hilarious and it was a great comedic end to this jam-packed day.
Tomorrow for our final day, we start with Chelsea Clinton, followed up with my favourite content marketer Doug Kessler from UK B2B agency Velocity, finished off with a keynote by best-selling author Daniel Pink. So stay tuned!
Over and out from Boston!