My father always told me to make sure I was never the smartest person in the room.
Well, there's absolutely no risk of that happening this week (or, probably, ever).
There are a lot of extremely intelligent people at inbound this year, which is nothing if not inspiring.
Before we move to day 2, I want to start with the end of day 1, featuring a great opening keynote by the inimitable Seth Godin.
Super Seth Godin
Seth is a remarkable marketer and an Inbound vet, having appeared at the conference two years ago to give his keynote address. This year, he spoke about how the internet can save your life – not literally of course (well, not yet anyway) – and how it has the power to change people and their behaviour in a positive way. He talked about computers being 'connection machines' – and our world being shaped by the 'Connection Economy' (or as we like to call it – the 'Experience Economy').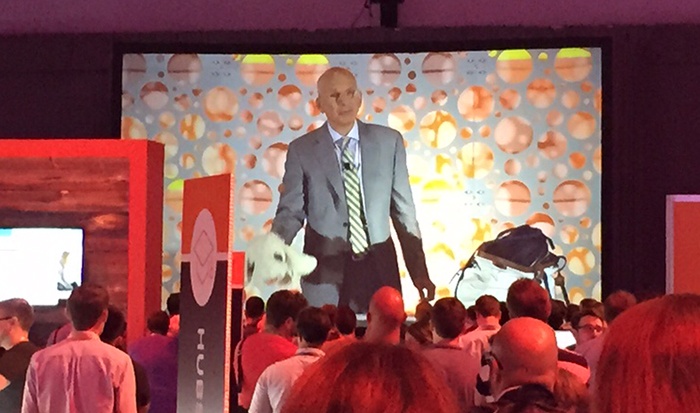 I'll always be impressed by a man who can use a Lamb Chop prop (look it up), a Ghostbusters Stay Puft Marshmallow Man reference and a homage to Dorothy from The Wizard of Oz all in one short lecture.
My main takeaway from his talk was this: you can't appeal to everyone, so provide things (products/services/content/offers) that are relevant for your specific audience.
Another important message he had for marketers was to stop saying, 'People like me do things like this'. He urged us to break out of the oppression of our comfort zone – because there will never be enough reassurance in life. So take risks, and learn to fail.
Alright, get on with day 2!
Day 2 was insane – it started with TED talk superstar Brené Brown. Brown is an American researcher, author, and hilarious public speaker whose lecture about the power of vulnerability (which you can see here) is one of the top 5 most viewed TED talks in the world.
Her keynote today continued on the theme of vulnerability, and my key takeaway was this: being vulnerable means showing up and being seen when you have no control over the outcome of a situation. Whether that's taking an assertive role in how you deal with conflict at work or creating something and being open to criticism, being vulnerable is both terrifying and the key to our personal and professional growth.
Canucks abroad
After Brené's talk, I headed to my next session called Unviral: Why Word of Mouth Needs to Change, and I fell a little bit in love with the acerbic wit of fellow Canadian, Scott Stratten, president of The UnMarketing Agency.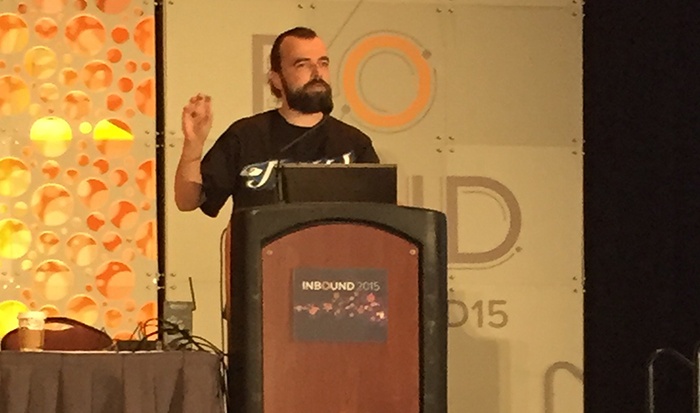 Stratten basically said all the things marketers really need to hear right: you can't just 'create' a viral campaign, forget about vanity metrics and for the love of god, don't be disingenuous with your marketing.
If you have a very low threshold for bullshit, this is your man.
One of my favourite takeaways from Stratten's talk was a vital point that was echoed throughout basically every talk today: good quality content is about evoking emotion. The message, the targets, the metrics – they don't mean anything if you can't forge real, meaningful connections with your audience.
It sounds simple, but it needs to be repeated because a lot of marketers tend to lose the plot when they've got their campaign blinders on. At the end of the day, evoking an emotional response from your prospects is by the far the most powerful measure of success there is.
Insane in the membrane
I also saw a session about the Neuroscience of Memorable Content by Dr. Carmen Simon of Rexi Media, who looked at how our brain processes and remembers information (basically, we don't – we remember about 10% of what we see – so we need to make that 10% count). The solution is to surprise and delight – keep your user base engaged by 'changing the stimulus': offer different ways to consume information (graphics, storytelling, videos, etc.) while always keeping your core message intact.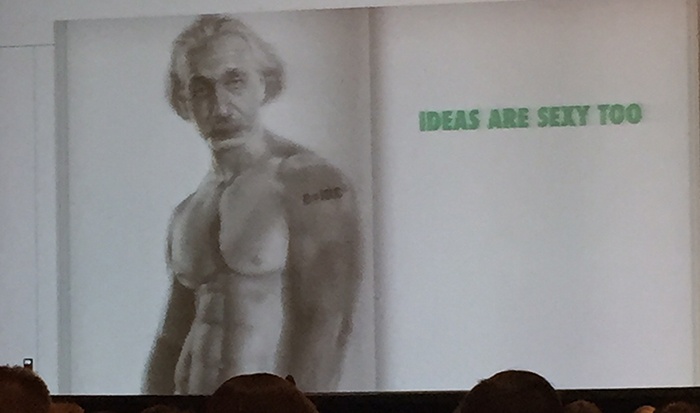 Insta-stars
Speaking of storytelling, I also attended a session by the former Vice President of Social Media for National Geographic, Robert Michael Murray, entitled The Power of Data, the Importance of Moments and the Future of Storytelling. Murray shared some pretty phenomenal stories of incorporating user generated content into the Nat Geo website and offered advice on how to use the data we collect to develop meaningful and memorable content for our users. And if you're not following National Geographic on Instagram, you should: the account is run by 110 photojournalists and has a staggering 7 million followers.
Gamification
The final keynote of the day featured Brian Halligan and Darmesh Shah. Can I just say, I'll die a happy woman if at some point in my life I get to star in my own 8-bit video game like these two did.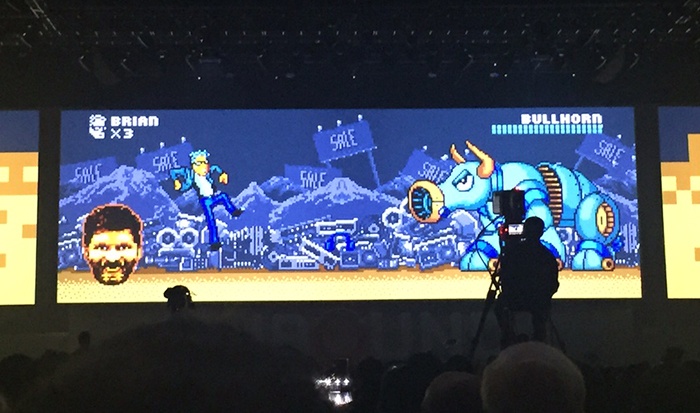 The session covered some pretty great product updates for both the HubSpot marketing tool and the sales products. But the core message was that we need to start being authentic marketers – and applying the golden rule to how we communicate with our prospects and customers.
If there was one thread running through these talks today – it was about being genuine. And while there weren't any overt references to brand love, I felt that the key message was that we need to create meaningful, honest experiences for our customers – a tenant that is close the heart of all that we do at BEcause.
So if you want to continue to hear me wax philosophical on all things marketing, stay tuned for my update tomorrow featuring keynotes from comedian Aziz Ansari, spotlights from podcaster and author Marc Maron and online fashion entrepreneur Sophia Amoruso of NastyGal fame.
Over and out from Boston.