To get people talking about its new 'Alluring Aquatic' collection, M.A.C staged a striking brand experience on Hollywood Boulevard.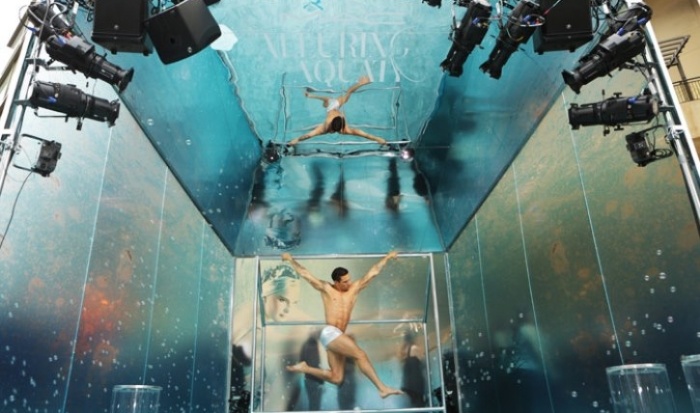 The brand's campaign used a 12 foot water tank containing synchronized swimmers.
Over the Memorial Day weekend in the US, M.A.C. targeted a key tourist area in Los Angeles – Hollywood Boulevard – with a custom-built pool in which superbly talented synchronized swimmers created an eye-catching spectacle. The experiential stunt  used turquoise glass to echo the new collection's packaging which is teal and accented with water droplets.

Synchronized swimmers performed routines for the crowd—and inspired many social media mentions using the hashtag #MACAlluringAquatic.
Alongside the aquatic marvel, attendees could also book appointments with professional M.A.C make-up artists, and Los Angeles DJ Derek Monteiro was on hand to keep things lively in the intervals.
Guests were encouraged to get talking about M.A.C's experiential activation on social media; not only was there a dedicated hashtag created for the event and collection, #MACAlluringAquatic, which was prominent on all invites, mailers and online communication, but the dramatic visuals of the event served as photo-ready content for sharing.
After premiering in Hollywood, the experiential concept travelled on to San Francisco and will end in San Diego.
The tank was highly visible to passersby during the bustling holiday weekend in town. 
M.A.C. knew what it was doing with this experiential activation – the brand chose exactly the right time and exactly the right place. Pitching up a brand activation on a holiday weekend in a bustling area guaranteed a captive audience looking for some entertainment. The event more than satisfied the 'social currency' need of its attendees, allowing them to proudly recount the experience to friends – and no doubt many did.
Have you ever thought about how experiential events can provide 'social currency' for attendees?  Take a look at this blog post for hints and tips for creating a viral event: The rise of the status maker event.