South Africa's no-frills airline, Kulula, came up with a fun way of promoting its no-fuss online check-in service…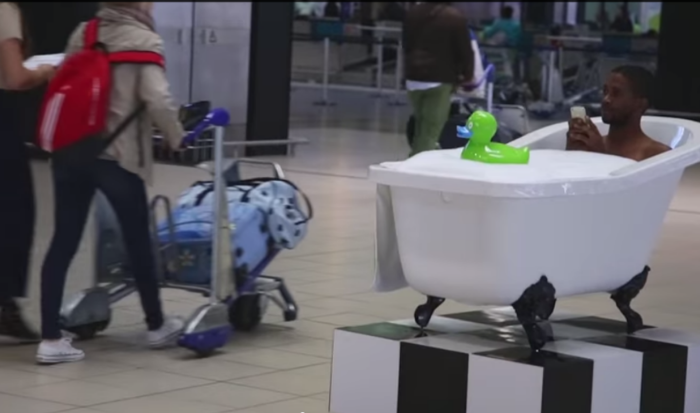 Kulula's online check-in service enables its customers to check-in from absolutely anywhere. Travellers can skip the queue and get their seat without even getting out of bed.

So, to demonstrate that, Kulula planted motorized beds and baths around Cape Town International Airport and O.R Tambo International Airport in which well-known local celebrities Siv Ngesi, an actor and comedian, and Jack Parow, a local rapper, could be seen relaxing.
Sufficiently decked out with Kulula branding, these unconventional check-in locations meandered through the crowds at the airports, demonstrating just how easy it is to check-in.
This sort of stunt is the last thing a traveller expects to see when they're at the airport – especially since they have become such serious and bleak security centres. And that shock has a lot of power for a brand; when something is incongruous we pay particular attention to it, and we're more likely to remember it.
The humour used also makes it especially effective. Any good marketer – particularly those in the face-to-face sector – will know that if you can make someone laugh, you're in a better position to sell them something. When people are entertained, that subsequent happy feeling carries over into their perception of the brand.
Love the humorous approach? Take a look at Yovis Viaggio's trapped-in-the-toilet stunt, or another toilet-related stunt that involved serenading from Power Activ.