"Against a car, a pedestrian has no chance". Here's a hard-hitting live stunt from Automotive Insurance of Quebec…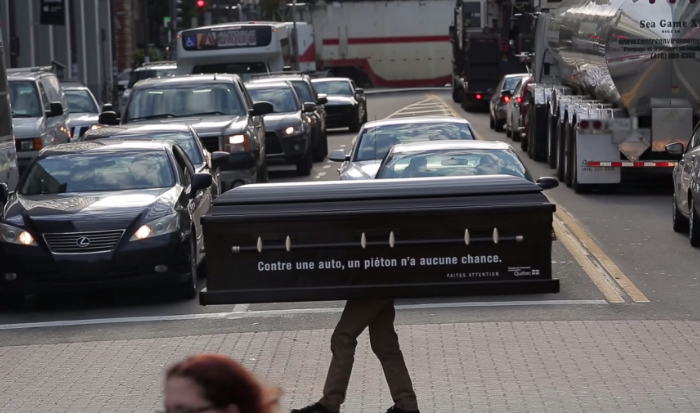 Every year, dozens of people die crossing the streets in Quebec. The Automotive Insurance of Quebec used a live experience to remind both pedestrians and drivers of this at intersections.
A walking coffin which read "Against a car, a pedestrian has no chance" joined pedestrians in crossing a road in the Canadian province to encourage them to be more aware.
This highly visual and powerful stunt caught the attention of pedestrians and drivers alike who were noticeably moved. Obviously this was an effective method – directly targeting the core audience at the very location of accidents really drives the message home – but could it be argued that the stunt itself distracted drivers and pedestrians?
This reminds us of an equally as hard-hitting campaign from The Transport Accident Commission Victoria in Australia for the 2013 festive season. The road safety organisation's installation 'Ungiven Gifts' highlighted the amount of deaths on Victoria's roads that year and the resulting ungiven gifts and empty seats at the dinner table at Christmas. Read more about the powerful campaign here.