A fun and inviting brand experience is currently bringing smiles to faces across the United States, thanks to tech giant Google.
The multinational firm – which joined the smart speaker battle last year when it launched the Google Home and went head-to-head with Amazon Echo – continues to look for innovative new ways to reach out to shoppers with quirky experiential outings.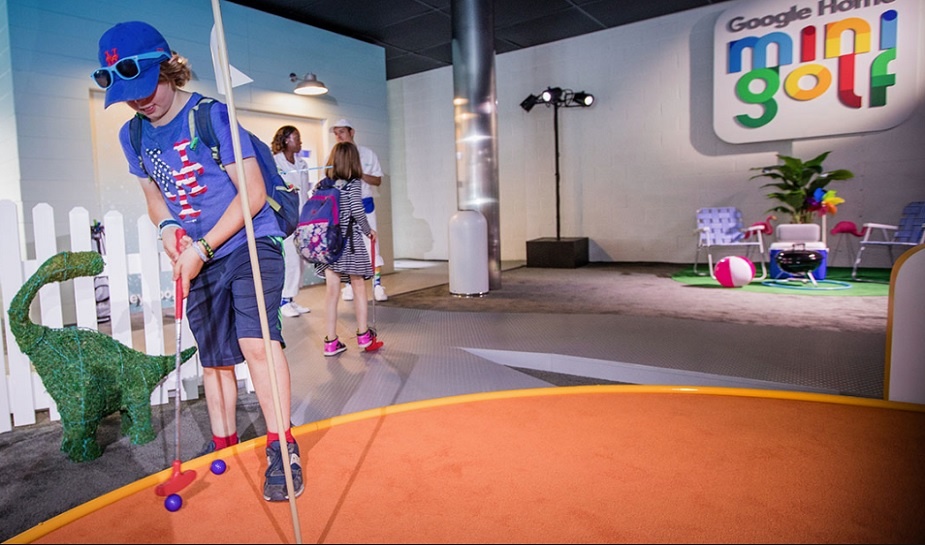 We've already seen a series of Google Home Mini Donut Shops popping up across the US, serving up a healthy offering of mouth-watering sweet treats and tech goodies to delighted fans.
And now Google has put its own delightful spin on one of the greatest pastimes of all: mini golf.
The Google Home Mini Golf pop-up roadshow is travelling across the US right now. It's already had limited-time-only spells in New York and Chicago and will be stopping into Los Angeles (June 30 – July 5) and Atlanta (July 26 – July 29) too.
The 20 days of live activations look to show the possibilities of what Google Home is capable of in people's abodes, but within a much more exciting environment – demonstrating how "Google Home helps navigate life's little obstacles."
Participants of the pop-up six-hole mini golf course are tasked with swerving various obstacles by talking to Google Assistant on one of three speakers – Google Home, Mini or Home Max – showing off the company's AI capabilities in the process.
The user's voice commands, issued over the course of the experience, leads to various devices turning on and off on the course – including lights, TVs and a fan. And while Google still has some way to go in terms of the total devices it can connect to compared with Amazon, this is yet another novel way of extending the visibility of its home-focused tech offering and creating a ton of buzz for it.
The smart home market is heating up as consumers' confidence grows, and Hive is another big player in this field with smart home services that control many aspects from heating to lighting – freeing up time for the things we all love to do. Hive's benefit-led storytelling approach won over shoppers when Hive Home landed in Las Vegas for CES, the world's largest consumer show.