The promo industry attracts a lot of people with a performing background, and my situation was no different. My passion led me to try and find flexible work to fit around auditions and contracts. And one day, almost as if by magic, I received a text message from a director I was working with at the time to say an agency were looking for people to work on the Nintendo 3DS nation-wide tour.
So I responded to say I was interested in the role and before I knew it, I was travelling around the UK, surrounded by likeminded people and working with the public on an exciting, big-name event.
What could be better?! Naively, I believed it was a one-off job, but little did I realise that I had now fully immersed myself in the wacky and wonderful world of promo!
The biggest milestones
I was truly fortunate to work on some incredible campaigns that have given me a lifetime of memories.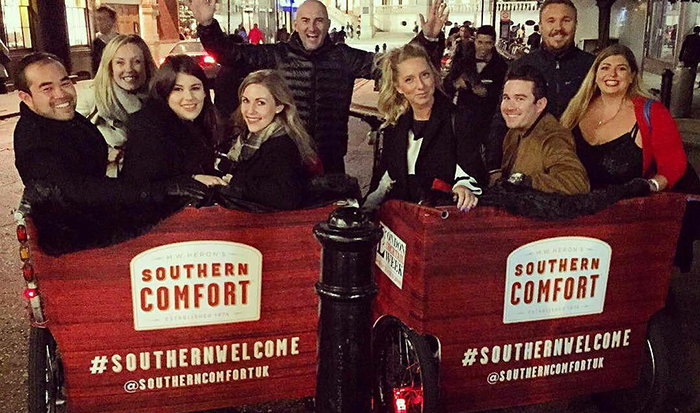 My biggest achievement was joining the Samsung team on the Olympic Torch Relay in 2012, where I travelled the UK for two months in a badass tour bus, following the Olympic Torch. I will never forget the feeling when we all stood and watched the torch arrive at its final destination symbolising the start of the 2012 London Olympics.
I also became a core member of the Citroen Events team where I got to travel around the country with an amazing group of people and work at events like the Goodwood Festival of Speed.
You only get what you give
The main thing I learnt about the promo industry is you get out what you put in. If you show dedication to the brand/campaign, and go the extra mile, then you will be booked for work time and time again.
With the long days, the travelling and unpredictable weather it can be difficult to push through with a smile on your face. But I learnt that reputation is everything, and the hard work you put in results in future work.
Life behind a desk
After five years of working in promotions, I knew that experiential marketing was the industry I wanted to build my career in. Luckily, fate was on my side and I landed a job on the staffing team at Because, and moved my life down south to start adventures new.
From working as a brand ambassador I was able to understand the campaign from many different sides, and was therefore able to bring a new perspective to the team. I knew how hard the promo industry could be at times and realised the importance of rewarding staff to help them to feel appreciated by the HQ team. This type of inside knowledge really helped us to get the best from our staff and keep them wanting to work for us knowing we valued their hard work.
A demanding job
Like anything new, I found challenges along the way – especially going from being out in the field, continually meeting new people and working at different events, to working in a close team in an office environment.
I remember when I first started in the staffing team and a lot of my promo friends would ask me what it's really like working in an office. I didn't see it as being 'trapped', I was finally able to see a campaign right the way through – from the kick off meeting, to the live event, to the evaluation presentation.
I could finally understand everything that it takes to get a campaign ready for the live days, and I felt a real sense of pride and accomplishment knowing that I was a part of something much bigger.
Life one year on
I'm coming up to my one year anniversary working for Because, and I am confidently taking control of my own campaigns, which feels amazing. It's crazy to think how far I have come in such a short space of time.
Being a part of an agency is a lot of fun, and very rewarding. We work extremely hard to deliver a first class service to our clients and staff, but we also like to play hard aswell. I've got to say one of my favourite parts of the job is 'Thirsty Thursdays' where we celebrate a long working week with homemade cocktails – yum!
And another part of my job that I love is all of the things we do to raise money for our charity 'ADD Positivity'. Back in September a team of us ran the Windsor Half Marathon and managed to raise £1,300 which was an incredible achievement!
No matter what role you work in within the promotional world, with the ever changing industry, and events becoming increasingly more exciting and adventurous, there will never be a dull day on either side of the table.
Want to kick-start your experiential marketing career? Sign up the Because 2017 Graduate Scheme.