Billboards were once considered a boring yet intrusive advertising medium. A distraction on the horizon that was given little attention.
But times have changed. Innovation and creativity has sparked renewed excitement and investment in this out-of-home (OOH) format.
Brands have breathed new life into the traditional billboard – creating targeted and highly-engaging advertisements.
One of these brands is Adidas who recently launched a clever new experiential billboard to celebrate the global appreciation of football.
Football enjoys an estimated 4-billion person following – more than half of the world's population – and is hugely influential across the globe. It is often praised for bringing people together in their shared passion for the players, teams and leagues worldwide.
To capitalise on this and raise awareness of the Adidas branded Telstar footballs, a month-long campaign was created in Delhi to appeal to football fans across a range of age groups.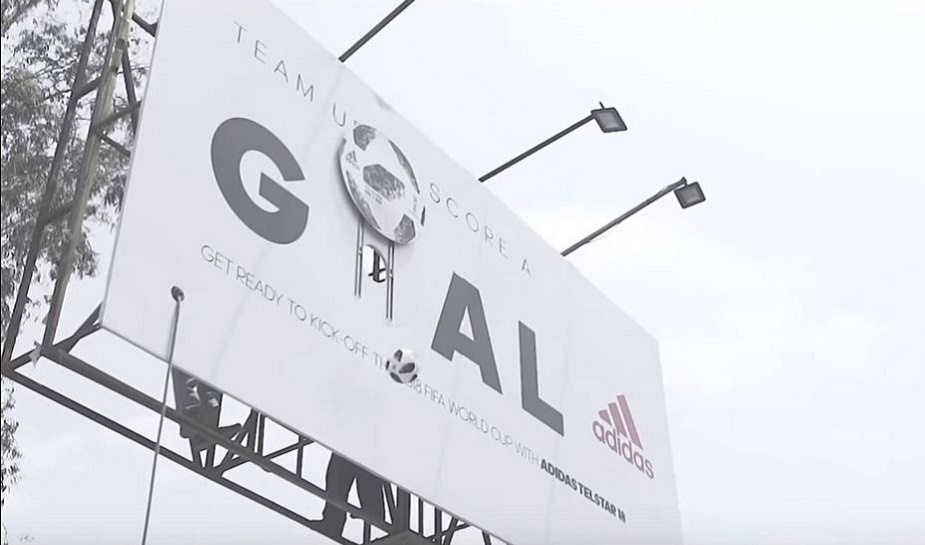 The rationale behind the campaign is that the world goes into hibernation when football isn't on our screens so to wake people back up again, Adidas created an interactive billboard that sparked curiosity amongst passers-by.
Rewarding team spirit, the eye-catching billboard, emblazoned with GOAL, featured a rope hanging down alongside the words 'team up to score a goal.' People soon discovered that you couldn't pull the rope alone and needed to call upon others to help. With a team of people pulling on the rope, the 'O' in GOAL was lifted and a Telstar football dropped down for people to play with – sparking impromptu games in the nearby park.
Sean Van Wyk, senior marketing director, Adidas India, said: "The love for football is growing massively in India with each passing year. The idea of this innovative billboard was to celebrate and reward the spirit of coming together as a team."
The campaign was amplified through digital media and attracted 1.3 views in a very short space of time. It helped to drive engagement on a local level and then spread the reach to a larger online audience.
Community driven and highly-effective, the billboard successfully brought out the positive emotions of playing football and the happiness that comes with working in a team.
In addition to spreading joy, OOH adverts have also previously been used to shock passers-by like this breathing billboard from Netflix and this eye-catching experiential activation from Snickers.