Mermaids in film and TV are often portrayed as magical, glamorous yet timid creatures; viewed with intrigue and wonderment.
New US TV show, Siren is challenging this idea with its eerie and sinister depiction of the mythical creatures; taking viewers into a different underwater world.
To celebrate the launch, production company, Freeform, and entertainment hub, Popsugar, joined forces to create a magical yet haunting immersive experience to raise awareness and build anticipation for the show's arrival.
Open to the public for four days, Goya Studios in LA was transformed into the Mermaid Museum from the inside out including colourful scales painted all over the outside of the building. The inside was given a mystical sea-life makeover, recreating scenes from Bristol Cove where Siren is set.
One of the biggest attractions of the museum was a real-life mermaid swimming inside a large tank. To replicate the look of the characters on the show, the actress, in addition to an impressive scaly tail, had webbed hands, claws and silver shimmery skin. Keeping in character, she glared and snapped her jaws at the guests intimidatingly as she swam majestically around the tank.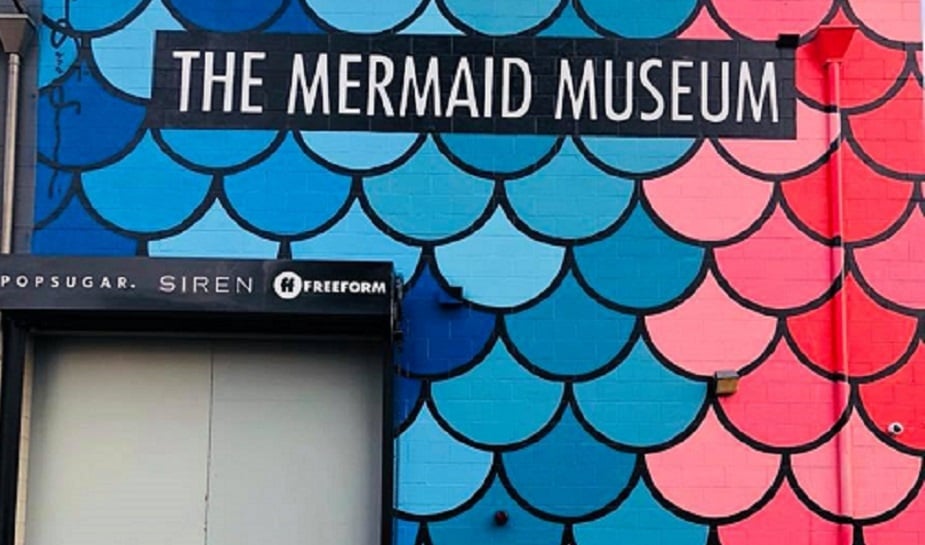 Encapsulating the mysteriousness of the new series, the space included plenty of social-media ready installations to help amplify the campaign online. Elements of Bristol Cove, the fictional town where Siren is set, could be discovered throughout the activation, like the Bristol Cove Mermaid Shop, a fishing shop filled with artefacts inspired by the show.
Guests could also walk into a room with 360-degree projections of sea life and stand in front of an interactive sequin scale wall.
There was also a plethora of unique photo-sharing opportunities including one that made people look like a mermaid floating in an underwater garden and another of a giant oyster where visitors could sit inside.
The remarkable pop-up event was free but ticketed on a first-come-first-served basis and was booked up in a short space of time; a reflection of its success.
The activation also presented a nice CSR opportunity for Freeform. The 4,800 gallons of water used in the live mermaid exhibit, will be donated to TreePeople and used to hydrate the LA landscape. Freeform also made a donation to Heal the Bay to help improve Los Angeles' coastal waters and watersheds.
The unforgettable experience has been effective in bringing the unnerving underwater world in Siren to the surface with its creative, shareable and visually impactful installations that delighted visitors.
In the reverse of this campaign, Museo Atlántico, Europe's first underwater museum experience, takes life on land into the sea with thought-provoking cement sculptures at the bottom of the ocean; another strong example of a poignant and impressive exhibit.