We're only three months into 2018, and already this year is set to go down in the history books as a turning point for gender inequality.
Global headlines have been dominated in recent months with powerful, defining movements that are championing women's rights and fighting back against harassment and suppression.
From the much-documented #MeToo social movement to the Time's Up campaign – publicly supported by 400 big names from the entertainment industry including Meryl Streep and Jennifer Lawrence – the long-standing imbalance that exists between men and women in many corporate environments is, quite rightly, coming under huge scrutiny.
And there's one key area that is front and centre in the debate: the gender pay gap.
As organisations such as the mighty Netflix are forced to publicly apologise for paying male actors more than their female co-stars, it's clear that when it comes to fair pay, we still have a long way to go as a society.
But do children understand this big issue? What would young girls think if they were to discover that there's a very real possibility of earning less in their future, solely because of their gender?
For this year's International Women's Day, Danish financial services union Finansforbundet carried out a very simple experiment to find out.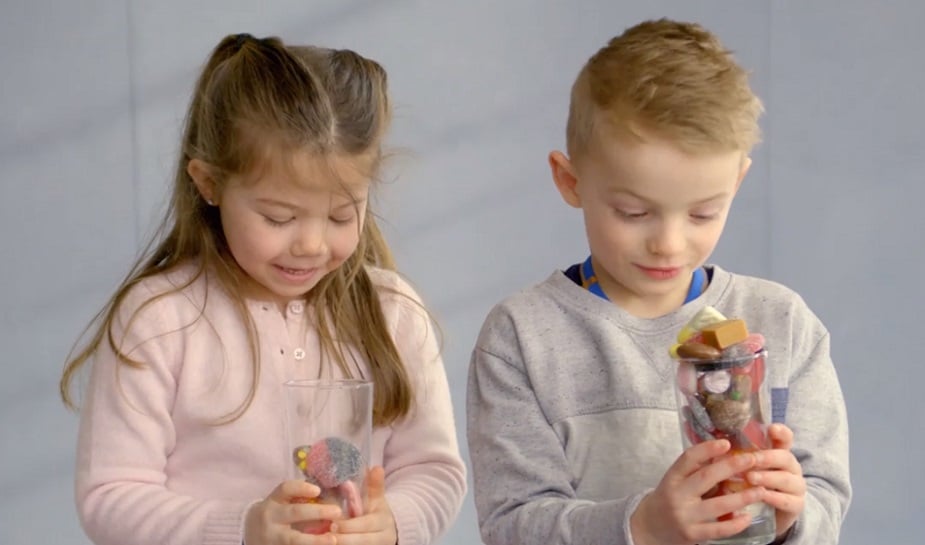 In a newly-released campaign video, Finansforbundet "gave children a taste of work life."
Pairs of boys and girls were invited into a room to carry out a simple job – place blue balls in one vase and pink balls in another. At the end of their task, they would receive a reward for their hard work.
Holding their hands out in expectant anticipation, each boy and girl opened their eyes to excitedly see that they had received a glass full of sweets.
However, the joyful smiles soon turned to frowns and confusion, as each girl realised she had received half the amount of sweets as the boy beside them, simply "because you are a girl."
Some of the boys initially found this situation funny, before declaring it "weird" and "unfair" and choosing to share their rewards so that both went home with an equal share.
The genuine reactions are a joy to behold, and eye-opening too – a simple yet powerful underscoring of the long-standing gender inequality issue that could sadly lay in the future for yet another generation unless the tide turns.
The bold and highly creative world of experiential marketing provides the perfect platform to reach new audiences with powerful and important food for thought.
We've seen some superb activations in recent months. The One Love Foundation's 'Love Better' pop up shop tackled unhealthy and abusive relationships head-on, while Burger King's emotive experiential video made it clear that no one in this world deserves to be bullied.
And as more and more brands celebrate diversity, we look forward to seeing more big name brands turn their attention towards experiential and events to get vital conversations going in the real world.