Ever worried about an unusual lump on your body but been too embarrassed to go to a doctor? You're not alone.
Testicular cancer is the most common form of the disease in males aged 15-39, but is still considered a taboo topic, preventing many men from seeking the help they might need.
It's a type of cancer which is easily treatable in the first stages, with a survival rate of 99% for early diagnosis. Though sadly only around 68% of cases are diagnosed at an easily treatable stage.
Targeting the awkwardness and discomfort which often holds men back from seeking advice, Testicular Cancer New Zealand came up with a gloriously unique idea to put them at ease about checking their testes.
The result? The Testimatic, a private medical booth that gives men the opportunity to get checked without facing a doctor.
To reach a large number of men, the booth – known as world's first auto ball checker – debuted at the Big Boys Toys exhibition in Auckland, where visitors could also check out cars, gadgets, action sports, barbeques; all very stereotypically masculine interests.
In amongst the high-tech gadgets at the expo, the branded stall was fitted with a simple curtain for privacy and a hole big enough for a hand to appear through to check the occupants' testes.
Once inside the Testimatic, participants were asked to drop their trousers and pants. A gloved (and granted, mildly creepy) hand of a urologist or GP would then appear through the small gap to check for abnormalities; usually only taking around 30 seconds.
That was it; no gadget wizardry, no sensory stimulants. The highly-memorable live activation was designed to be casual and as non-invasive as possible – a simple and effective hands-on, real-life experience designed to get men talking.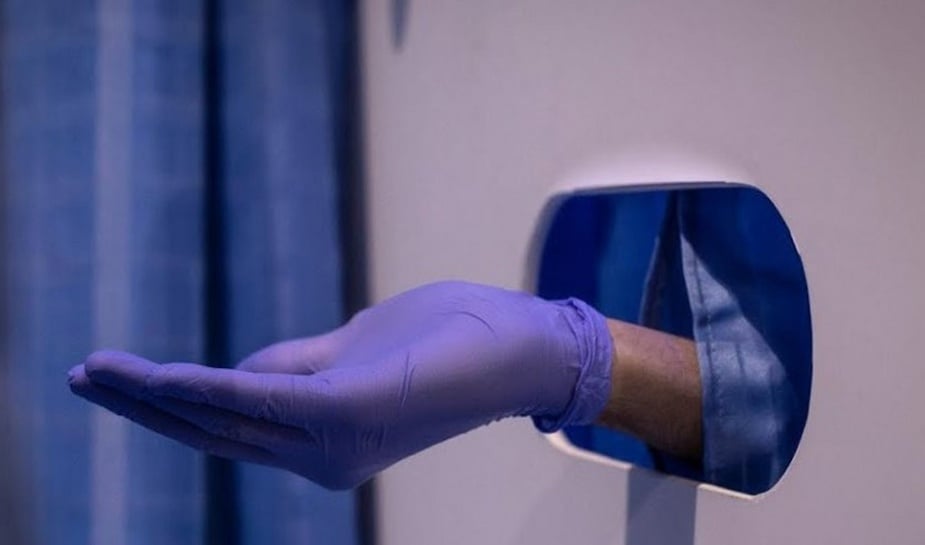 Graeme Woodside, CEO of Testicular Cancer NZ said: "We see the Testimatic as a great way to get men thinking about a serious health concern. The message we're trying to spread is that you don't actually need to go to your doctor, you can check your own testicles and make it part of a monthly routine."
While the experiential campaign launched in New Zealand, it gained interest from journalists around the globe, catapulting the cause into the limelight and demonstrating the success of the project.
This isn't the first time we have seen an experiential campaign used to highlight and address cancer awareness; the Marie Keating Foundation placed a small lump on the famous breasts of Irish statue Molly Malone to get people talking about breast cancer, while the Cancer Institute NSW transformed sun protection into a game to raise awareness of skin cancer.