To encourage people to think about what it's like to suffer from Alzheimer's disease a Dutch charity, Alzheimer's Nederland, created this simple campaign that got thousands of people talking just before Christmas.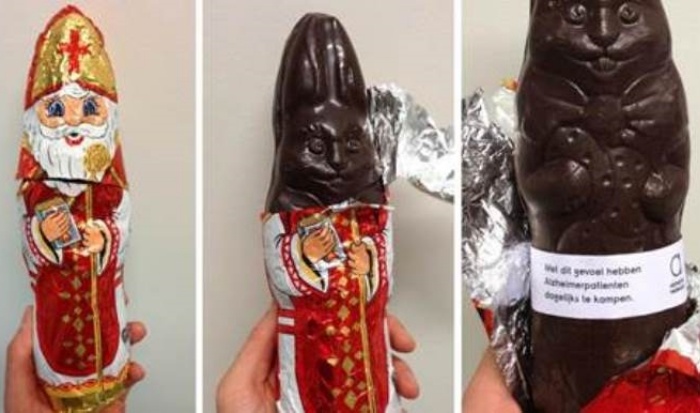 Alzheimer's Nederland released this image of a chocolate Saint Nicholas wrapper opening up to contain an Easter bunny, with the caption "This is the sort of confusion people with Alzheimer's suffer every day" looped around the chocolate.  Disease awareness advertising is not an easy task, but Alzheimer's Nederland managed to make the message clear, moving and effective with one simple image.
The image went viral on Twitter and the hashtag #paashaas (Easter bunny) was trending in the Netherlands by 5th of December and accumulated more than 900,000 impressions. This is a great result for a low-cost disease awareness campaign for such a difficult topic as Alzheimer's disease.
Being direct is often a great way to tackle difficult issues.  Last year we took the Department of Health's Be Clear On Cancer campaign on tour around the UK – every day we were impressed with how receptive the general public was when confronting embarrassing and 'unmentionable' issues.  Tackling the issue head on was a great way to get people talking and spread the message.