How to look like you mean business, when doing business online.
Across the world, we've all been on more video calls in the past month than we ever imagined possible, or necessary. And in the past month we've seen everything – double chins, unbelievable virtual backgrounds, meetings done in pjs, and the I-really-did-just-get-out-of-bed-hair-look.
Video calls are here to stay (for the foreseeable future, anyway) and while your bedroom may well be the new boardroom, that doesn't mean you shouldn't show-up like you like you mean business. For 30 years we've been helping clients market their brand. Today we'd like to help market 'you' with these 6 essential (well, we think so anyway) tips.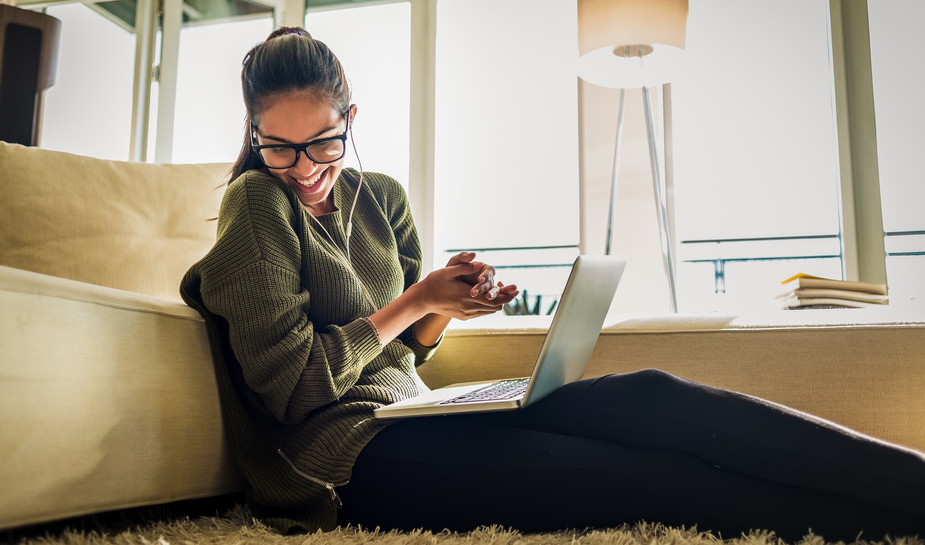 1. Camera position is everything
Basically, when you're setting up your video-call space, you need to think about the 'good old days' of having a meeting around an actual boardroom table. The likelihood is that you didn't sit almost nose-to-nose with the person in front of you.
Keep the camera eye-level. Too low, and you've got a double chin. Too high, and viewers can count your impressive crop of nose hairs.
Try giving your laptop some lift by stacking some old carb-filled cook books under it, or that pile of tailored pants you have no need for now. Aim for 15-20cms of height and place it about 80cm away from you. This will help you look a little less in-your-face and Shrek-like.
An angle also works well on screen too, so for those lucky enough to have a desk, try putting it on the top left or right hand corner.
2. Lighting is (also) everything
The right light evenly accentuates your facial features and brightens your skin, giving you a glowing complexion. Now who wouldn't want that!? To achieve this, front-facing natural light is best, so set your computer up in front of a window, and make sure the light is hitting your face straight-on. You want to avoid any shadows on your face.
Don't have an ideal source of natural light? No problem, putting a lamp behind your laptop should do the trick too.
Light coming from above or below you will cast unflattering shadows on your face (fine for scary-story time, but not fine for important business meetings with the boss time), and light coming from behind you will turn you into a silhouette of yourself, so best to avoid.
Also, if you're using Zoom, get even better results by combining great lighting with their neat little even-skin tone feature. Less wrinkles, softer focus. #win (go to settings, click on the video icon under general, and then under my video click on 'touch up my appearance').
3. What not to wear
You may be working from home, but you still need to look the business. Even, if you're the CEO, no-one has license to do business in their bathrobe. Unless you're Hugh Hefner, but you're not, are you? First and foremost, make an effort. Even if it is just with the top half of your body. Brush the hair around your face (leave the back if you just can't deal). Slap on some blusher and lip gloss – it only takes a second to apply.
Choose solid colours. Prints don't often come across well in camera. Wear an accessory. Nothing OTT, maybe a scarf (a few scarves nearby will dress up a simple white t-shirt in less than a nano-second!), some earrings, a cap for a bad-hair day – anything that gets some of your personality across and makes you look like you thought about what you were going to wear today. But stating the obvious, keep it understated here.
Doing this will make you feel confident and camera-ready for those unexpected, 'suddenly there's a face in your face', video calls.
4. Keep it stable, and mute when you can
Nobody wants to come along on your vomit-inducing tea-making expedition, or a tour of your newly renovated apartment to find a laptop charger. Just like when a real-life meeting starts, when a video call starts, stay put.
Don't get up and move around. Don't keep adjusting this and that. Don't go make tea for goodness sake. Try not to constantly preen as you admire your beauty on the screen. And if you're bored don't look away, stay focused on the speaker.
Video calls may be like a series of darts, coming at you, all day long. So start your day prepared. Make sure you are set up correctly before the call starts. Have what you need; chargers, refreshments, accessory, make-up bag, solitaire already loaded and a comfortable chair, so you can hit that 2-hour conference call like a boss.
5. The right background
Given that lighting is everything, your background will probably be determined by where your light source is coming from. Some things to look out for though, is that it's not too cluttered or distracting, that your underwear isn't hanging from the radiator behind you, and that your level of care when it comes to household hygiene doesn't come into question. In other words, clean up.
If, (for whatever reason, we're not going to judge) you don't have an appropriate background and you're using Zoom, try one of their virtual ones. Just keep it real. No one is going to believe you're on a beach in Malta or a galaxy far, far away.
Also use your initiative. If you're having a meeting with the bigwigs, choose a professional looking background, something clean and contemporary. If it's a zoom party with the boys, well, choose whatever isn't going to land you in the dog box.
6. Test it out
Right, now that you've set it all up, test it out. Preferably before the actual call. Give a mate or a colleague a shout. Someone who'll say it as it is, not just what you just want to hear. When your meeting starts, you want to know you're ready. So, if the app or program you're using has the option of previewing your video before it starts, then hit 'preview'.
Whether it's a catch-up with the boss, an agency presentation or a 'quarantini' with the crew, there's no doubt it's going to be a 'video call' for the now, so let's all lean into it. Hopefully these tips will help you to feel more confident and more camera ready. Trousers (well…jeans) may no longer be a priority in meetings, but looking like the powerhouse you are matters.
Good luck!