It's no secret Ed Sheeran loves New Zealand and that New Zealand loves him.
The pop star artist consistently tops the charts in New Zealand with his every release, shatters tour records and he even has his own mural.
So when it came to releasing his latest album, No.6 Collaborations Project, Ed invited Kiwis to a very special pop-up event in Auckland, which we were proud to create with our client, Warner Music New Zealand.
The pop up store, full of limited edition merchandise exclusive to the pop-up is open in St Kevin's Arcade for two days.
Fans can put themselves in the 'I Don't Care' music video, win spot prizes, buy exclusive merchandise and of course, listen to the album.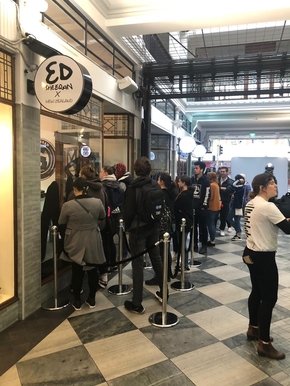 This isn't the first time Ed Sheeran has created bespoke experiences for his fans in New Zealand. We were lucky enough to work with him last year to create pop-ups with Warner Music, complete with an Ed Sheeran photobooth Kombi.
Pop-ups are a hugely popular way for music artists and entertainment properties to gain a more intimate connection with fans.
Want to learn more about creating meaningful, memorable and magical pop-ups for your brand? Check out our pop-ups & residencies service page or take a look at the pop-ups we've done for brands like Tech21, The Body Shop and Macallan.