Experiential marketing can have many different aims; to promote a new product, raise awareness of an important issue, or to generate a buzz around a brand.
But whatever the motivation, for a campaign to make even the busiest of people stop and pay attention, it needs to be creative, innovative and in a location guaranteed to attract the right audience.
Energy company E.ON Italy ticked all the boxes in its recent experiential stunt, when it took to the prestigious Brera district of Milan and transformed a historic building in to a platform for a large-scale activation.
To encourage members of the public to think about energy waste, E.ON's 'We Hate Waste Campaign' made the building appear as though it had been completely frozen due to somebody leaving the air conditioning unit on for months. Clever paint work and smoke machines brought the concept to life and made it look incredibly realistic.
On the first day of the week-long stunt, there was no sign of any E.ON branding – causing confusion for those observing the building covered in ice. To add extra drama, a pretend fire brigade attended the stunt and 'rescued' residents from the building.
In the campaign's video, passers-by can be seen growing increasingly concerned for the safety of those inside – suggesting the stunt successfully tricked Milan's residents and tourists.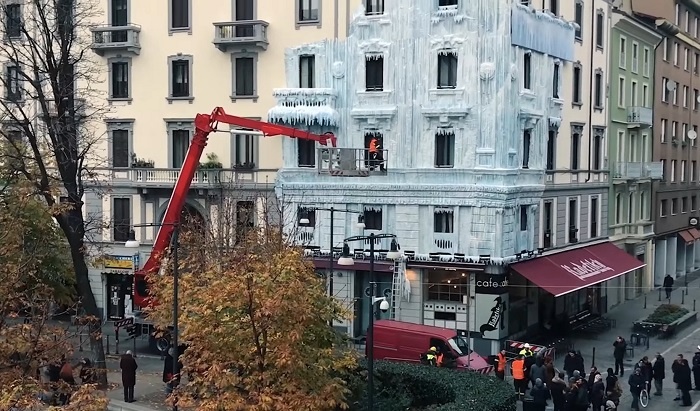 Once the campaign had caused a significant stir, and with #palazzoghiacciato (frozen palace) trending on Twitter, E.ON revealed it was behind the activation by unveiling a branded poster on the side of the building. As a result, members of the public joined in to support the campaign by holding up protest boards plastered with anti-waste messages.
To help people relax after witnessing such drama, members of the public were invited into Radetzky bar located directly below the building to enjoy a limited-edition Radetzky-on-the-Rocks drink, which was specially created for E.ON.
While this campaign is highly creative, E.ON isn't the first brand to take over a building for an experiential stunt; automotive company Toyota transformed the exterior of the Double Tree Hotel in New York's Times Square into a giant 3D rock climbing wall to promote the Rav4.
Both campaigns captivated the public's attention, offering the chance to witness something incredibly unusual, which will no doubt make them want to tell friends, family, and colleagues about it in the future.