Take your pick.
Whether its beef-like burgers or not dogs, we can't stop talking about the latest innovations in meat substitutes launched in response to the growing vegan trend.
Interest in 'veganism' has increased seven-fold in the last five years, according to Google trends. Even some staunch meat eaters are taking a more flexitarian approach.
In response to this trend, fast food chains are evolving their menus, eager to trial plant-based options on their menu. From the likes of Burger King's Rebel Whopper, to Greggs' infamous vegan sausage roll in the UK, restaurants are rolling out plant-based twists on signature recipes.
To make its mark with a vegetarian-friendly option, Dunkin' Donuts served up a perfect pairing in a multimedia activation to build brand love with a growing plant-based audience.
The brand expanded its partnership with Beyond Meat ambassador and investor, Snoop Dogg, who regularly posts about the partnership to his millions of social media followers.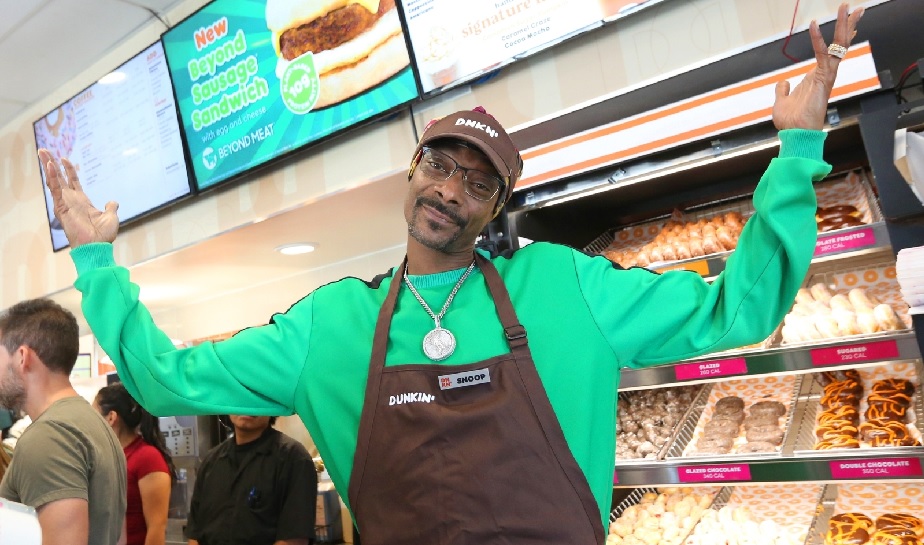 He took to his channels to announce his "Snoop menu hack" Beyond Sausage Sandwich, which consisted of a meatless beyond sausage patty, egg and cheese served on a sliced glazed donut.
Every dogg has his day, and now this dogg is getting his own donut sandwich ?? Introducing the Beyond D-O-DOUBLE G, only @Dunkindonuts ! @Beyondmeat #ad pic.twitter.com/ZJo1b0nqP6

— Snoop Dogg (@SnoopDogg) January 13, 2020
The strategic partnership made headlines with a memorable experiential activation which saw the rap icon working behind the counter serving up Beyond Sausage Sandwiches to genuine customers.
The unparalleled scenes from the Los Angeles stunt are now the basis of a fun TV ad, where Snoop dons a company uniform and serves surprised customers behind the counter and drive-through window. He was even awarded Employee of the Month at Dunkin', which was shared across the brand's social media channels.
Amplifying the campaign further, the brand set up its first dedicated online pop-up shop which sold limited edition branded merchandise – a popular tactic amongst fast food chains; remember KFC's bucket hat?
Bringing it into a real-life experience, Snoop and Dunkin' also plan to open a physical pop-up store, which will include a green tracksuit embossed with the Snoop Doggs' 'Glazzzed for Days' catch phrase.
Celebrity partnerships done right can be highly impactful, such as Cara Delevingne's collaboration with Samsung and Lewis Capaldi's charity Oreo-licking auction.