Considered one of the greatest wonders of the world, the Great Wall of China is a spectacular sight to behold.
Every year more than 10 million tourists head to the UNESCO World Heritage site and walk along the man-made wall across the historic northern border.
The famous landmark has been the subject of many replica models over the years made from a range of materials from chocolate to popsicle sticks, but how about Chinese takeaway boxes?
Food delivery service, Deliveroo, created a unique version dubbed the "Great Wall of Chinese" as part of a memorable two-day experiential stunt.
Made from 2,000 recycled Chinese takeaway boxes, the towering structure was taller than a double-decker bus and over seven meters long. It was so large and structurally sound that plucky people could even walk across it.
The brand picked a great location for the stunt to deliver maximum impact. The enormous cardboard wall, based on the Jinshanling section of the Great Wall, was erected in front of the Chinese Arch in Liverpool; the entrance to Europe's first-ever Chinatown.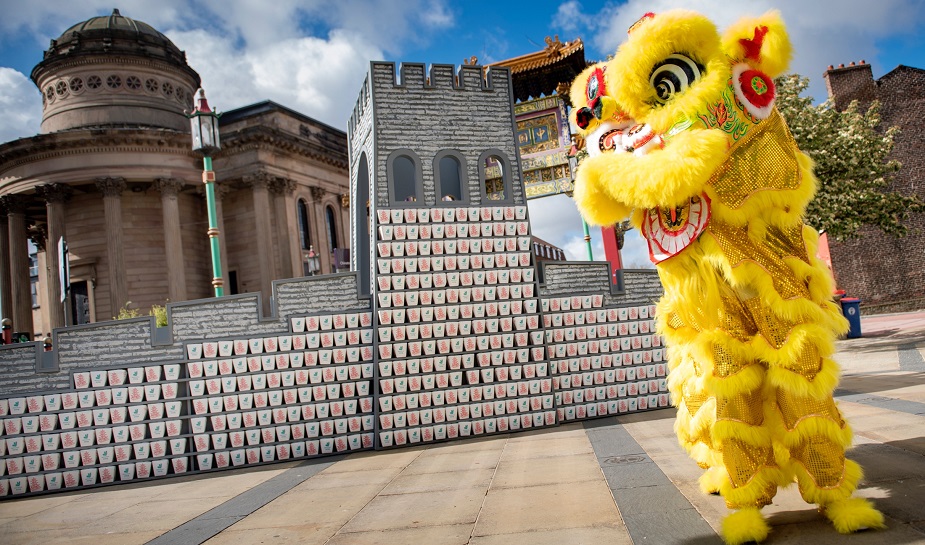 Much to the surprise and delight of passers-by, the walk-able wall was packed with prizes worth £5,000. Over 100 prizes were hidden away inside the small takeaway boxes which people could pick out from the wall.
To extend the campaign reach, prizes were also up for grabs to social media users. Anyone who posted a photo of the themselves with the wall on Instagram using the hashag #greatwallofchinese would be in with a chance of winning.
Described as a celebration of Chinese culture and food, the activation included special performers and free food delivered by a local restaurant.
While the pop-up was effective in building brand love, it also fulfilled another purpose; to raise awareness of the most popular dishes ordered on the app including Bubble Tea, Siu Long Bao, Prawns Dim Sum and Pork & Preserved Egg Congee.
Joe Groves, head of consumer comms at Deliveroo, said: "Chinese food continues to be the nation's favourite takeaway, and at Deliveroo, we have seen orders rise by 136% in the last year. Chinese takeaway is so much more than prawn crackers and sweet and sour chicken balls, it's great to see Brits being more adventurous with their Deliveroo orders."
We love hearing about visual spectacles built by brands that stand out and make consumers stop dead in their tracks. It reminded us of the stunning golden bee hive from Pandora and who could forget the huge pop-up confessional booth from Paddy Power.