Once an activity exclusively reserved for kids, colouring has recently been taken up as a hobby by adults worldwide. Promoted as the perfect activity to help aid relaxation and escape from from the stresses of life, adult colouring books are currently enjoying unprecedented sales.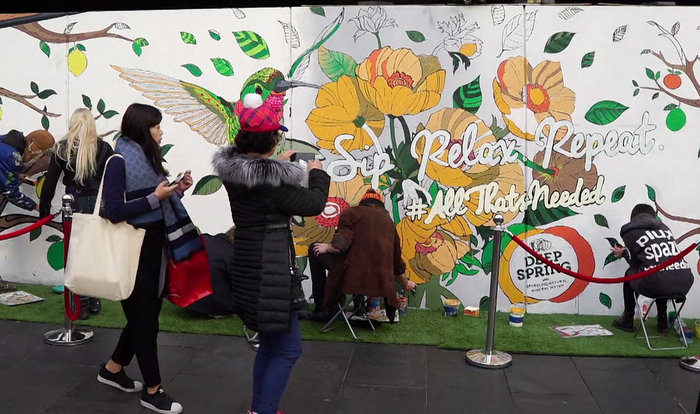 And now Coca-Cola brand Deep Spring has launched a creative experiential campaign in Australia that's been inspired by the adult colouring book craze.
In order to create buzz for Deep Spring's mineral water, the brand set up a giant mural on a busy street in Melbourne. The twist? The public's help was needed to finish it off.
Based on a white background, the only colour on the mural was the black lines of a simple pattern. With simple flower shapes, the mural was designed to match the style of a colouring book. As people walked past, enthusiastic Deep Spring brand ambassadors encouraged people to take a breather from their day and colour it in!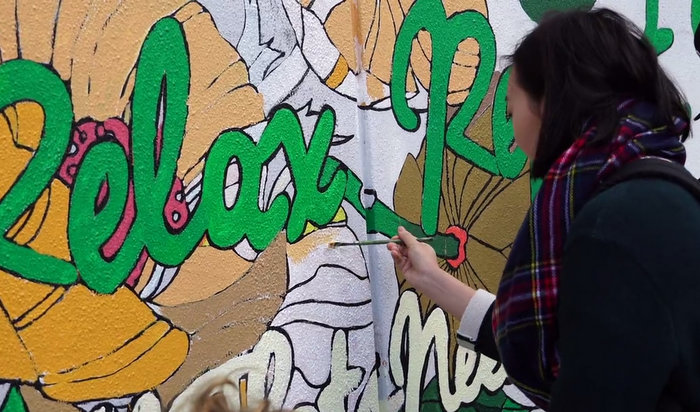 Any passer-by on the street could pick up a paintbrush and get to work. The mural also doubled up as a billboard for Deep Spring, displaying the brand's tagline: sip, relax, repeat.
Before long, a crowd of people had lined up to have a go, with the mural slowly coming to life in vibrant colour. And once they'd had their fill of painting, the busy workers were rewarded with a free bottle of Deep Spring to take on their way.
See the crowd-colouring mural for yourself:
In a similar way to Powerade's workout billboards, Deep Spring's activation delivered a fun and memorable outdoor brand experience that grabbed consumers' attention.