Music festivals don't come much bigger, or more sought-after, than Coachella.
Since way back in 1999 when it was hailed as the anti-Woodstock, Coachella Valley Music and Arts Festival has become a hugely desirable destination point for music-lovers worldwide, transitioning, as the LA Times so astutely puts it, from a scrappy Gen X rock outing to a perpetually sold-out fixture of late-millennial life in SoCal.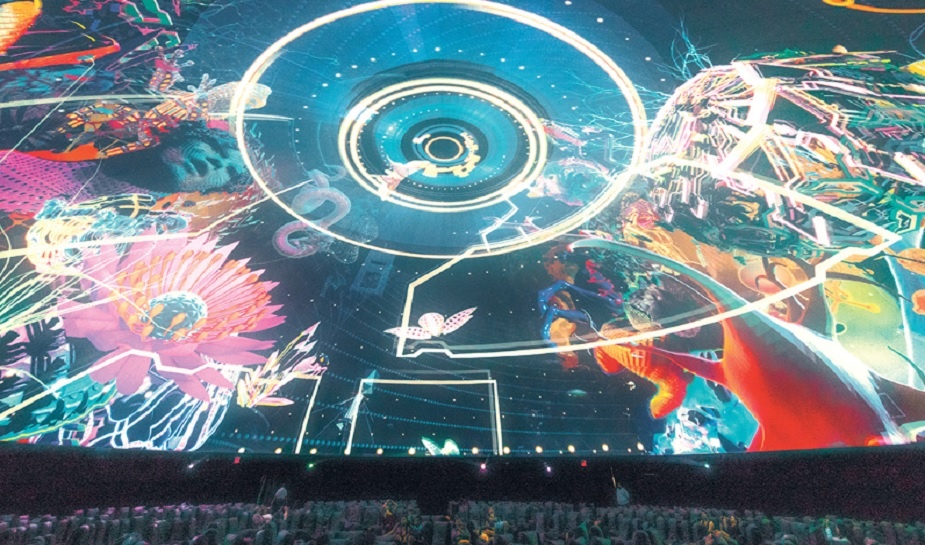 And this year's instalment may be the biggest yet, after garnering headlines the world over thanks to one Queen Bey making history as the festival's first ever African American female headliner. Beyoncé's spirited performance – and surprise on-stage reunion with her Destiny's Child bandmates – has led to the internet dubbing the event #Beychella, and questions over whether Beyoncé is actually bigger than Coachella.
With eyes around the world fixed firmly on the popular two-week festival, and attendees flocking from the world over to enjoy the spectacle, this year's event has been providing the perfect platform for brands to offer up both experiential marketing activations and highly personal bespoke experiences to audiences. Here are five that are doing just that.
HP's The Antarctic experience
Technology provider HP is making a big impact at Coachella once again this year with the return of its impressive, vast immersive dome, The Antarctic. Providing a highly visual and memorable showcase for HP's technologies – this highly memorable 360 degree audio-visual sensory experience is reimagining the 19th novella Flatland: A Romance in Many Dimensions this year. Last year, HP described the Antarctic as "a mind-blowing metamorphic journey through time, space and consciousness," and the brand's return this year is destined to up the ante even further.
W Hotel's ultra-luxury yurts
Modern day festival goers don't want to rough it out in the elements; oh no. And at Coachella 2018, W Hotel has got glamping well and truly covered with some ultra-luxury yurts on offer.
Available for members of the chain's loyalty rewards program to bid on in advance, the yurts – themed after properties in Barcelona, Bali and Hollywood – offer the ultimate glamping experience. Complete with morning yoga, maid turndown service, personal concierge, private bathroom, private bathroom, Wi-Fi, shuttle service and artist wristbands, these unique yurts have been hugely in demand this year. We're not surprised in the slightest.
SEPHORA's desert-ready makeovers

Looking good, and feeling good, isn't always easy in a hot, sweaty festival environment.
But beauty retailer SEPHORA has Coachella attendees taken care of with the most mesmerizing beauty experience offering a seriously rad selection of services from hairstyling and braiding to makeup touchups and DIY temporary hair color – as well as free product – for absolutely no charge. Talk about a crowd-pleaser.
BMW's #RoadToCoachella
The road to Coachella can be a long and winding one, and this year BMW took to social media to document the journey of one of Coachella's performers.
BMW's #RoadToCoachella shares the story of Portugal. The Man's band member John Gourley, who remarks that "the road to Coachella is different for everyone, but the experience is the same." Celebrating the new BMWi3s and the BMWi8 Coupé, the campaign video has so far clocked up over 100,000 likes and counting, providing great visibility for the brand.
Revolve Festival styles hundreds of top fashion influencers
Revolve, an LA-based online retailer, has ramped up their annual
#RevolveFestival
brand activation at Coachella this year. The two-day mini-festival at the Merv Griffin estate in La Quinta, CA hosted thousands of guests and featured performers including Snoop Dogg, Rick Ross, A$AP Rocky and Chance the Rapper. The company also styled over 450
influencers
for the festival, in key pieces from its stable of brands.
For Revolve, Coachella is a critical sales season
. Whether or not people are actually attending the music festival, it's when they start looking for warm-weather clothes – and that's what Revolve is selling. Wonder what tricks they'll have up their sleeves next year?