You're at a party. There's a table with delicious finger food and dips. You take a chip, but what you do next is important.
To double dip or not to double dip: that is the question.
You dip once, bite, and then dip again. Uh oh. Like George Constanza in this hilarious Seinfield clip, you've just committed the ultimate party sin.
Double dipping is said to be one of the biggest party fouls in America, but a recent survey revealed that an unashamed 1 in 4 guests are secretly double dipping anyway.
To catch these monsters in the act, Philadelphia, the Kraft-owned brand best known for its cream cheese, has created the Double Diptector smart bowl to help raise awareness of its dipping range.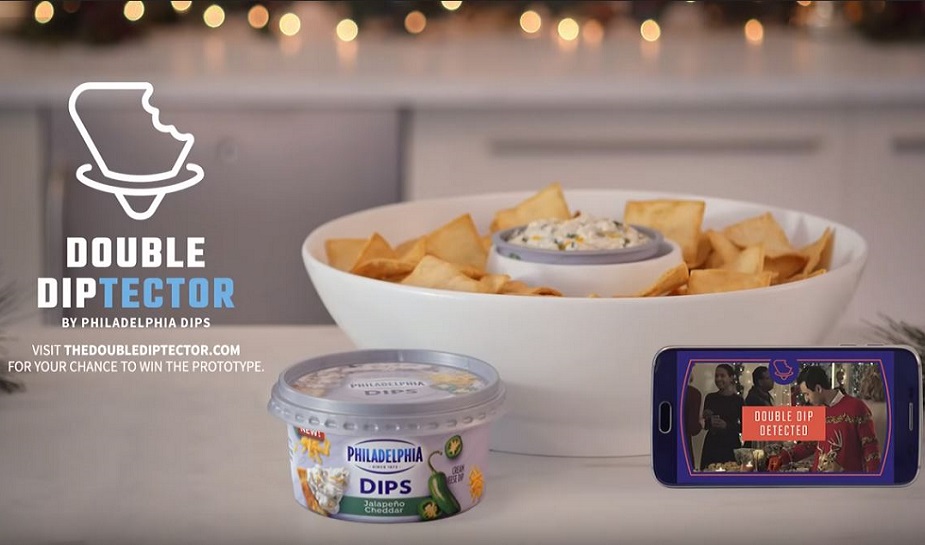 Perfect for the holiday season, the pressure-sensitive vessel pairs with the host's smartphone camera to alert them when the social mishap has been committed.
Equipped with sensors, the gadget uses motion-tracking technology to tell the difference between a one-off and a secondary dip. Genius.
When detected an alarm sounds and snaps of the party pariah are taken to allow the host to protect their dip and put a stop to the double-dipping madness.
The fun marketing stunt to promote the range of Philadelphia Dips included a promotional video that shows Reindeer-jumper wearer, Marvin, casually taking a second dip into the Philly but it's not long before he's caught in the act.
The social gathering faux pas struck a chord with many horrified Americans who were mostly positive about the campaign on social media. The activity was amplified through the brand's social channels which, combined, have over 1.3m followers and the YouTube video secured over 3m views in the first week.
The campaign was not only effective in cutting through the Christmas noise to support sales of its dips during peak trading season, it has also successfully raised awareness and funds for a worthy charity.
To spread the Christmas joy a prototype of the world's first Double Diptector smart bowl was sold at auction via eBay with a winning bid of $1,075. The full amount was donated to the charity, Feeding America, which works to get nourishing food – from farmers, manufacturers, and retailers – to people in need.
We love how Philadelphia has cleverly identified a shared party peeve during the festive season and harnessed this insight to create a highly-relatable and stand-out stunt.
It reminded us of when Ricolo tackled the annoyance of disruptive coughing at concerts with an experiential concert. And also when McDonald's addressed the social issue of phone use at the dinner table with a clever stunt to lock phones away.