It's cold, you're tired and you're waiting for a taxi.
It's taking ages to arrive, and there is nothing you would like more right now than for a luxury cab to pick you up and treat you to some gorgeous food, a pamper session and an ice cold beer.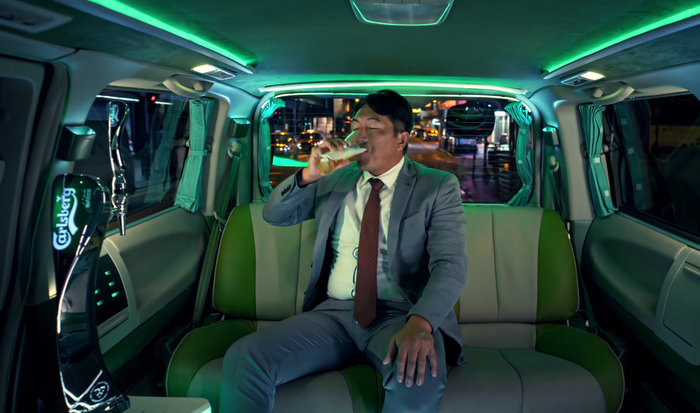 Well for some lucky commuters in China, this dream recently became a reality.
Drinks company Carlsberg surprised lucky travellers with the ride of their life with a fantastic experiential campaign.
As part of their much-loved 'If Carlsberg did…' series, they created the ultimate cab; kitted out with vibrant green lights, plush seats and, most importantly, beer on tap. Nice.
On top of this, passengers were also given the option to request added luxuries, such as a table of food, a shave, or something to help relieve their stress.
The car pulled up to several curbs across Hong Kong and offered a free ride to those struggling to flag down a lift.
The video gained 509,000 views, 2,100 shares and 5,800 likes on Facebook within its first week, making taxi flaggers around the world extremely jealous.
Carlsberg always have fun with their campaigns and we love their confidence in their ability to be the best at anything and everything in the world.
They certainly know how to create a great brand experience.
We've actually been impressed by a few 'taxi experience' campaigns in the past. We loved Playstation's SingStar taxi as well as Transat Holidays' Cuban taxi experience. We are excited to see which brand looks to deliver a moving brand experience next.