Burger King is no stranger to outlandish experiential pranks and tongue-in-cheek mockery of rivals. But the fast food chain's latest stunt is particularly brazen, openly encouraging customers to flaunt their preference for a Whopper right at the front door of McDonald's. Ouch.
Burger King published a post on its social media channels that posed the alluring question: "How do you order a Whopper sandwich for a penny 'at' McDonald's? Here's how."
The accompanying video then explained how Burger King fans could get their one-penny Whopper in just a few short steps, starting with downloading the Burger King app.
After installing the app, the joke was then revealed: to receive their burger, customers had to drive to their nearby McDonald's to unlock the ability to place an order for a heavily discounted burger. The app then even showed the customers the way to their fiercest rival.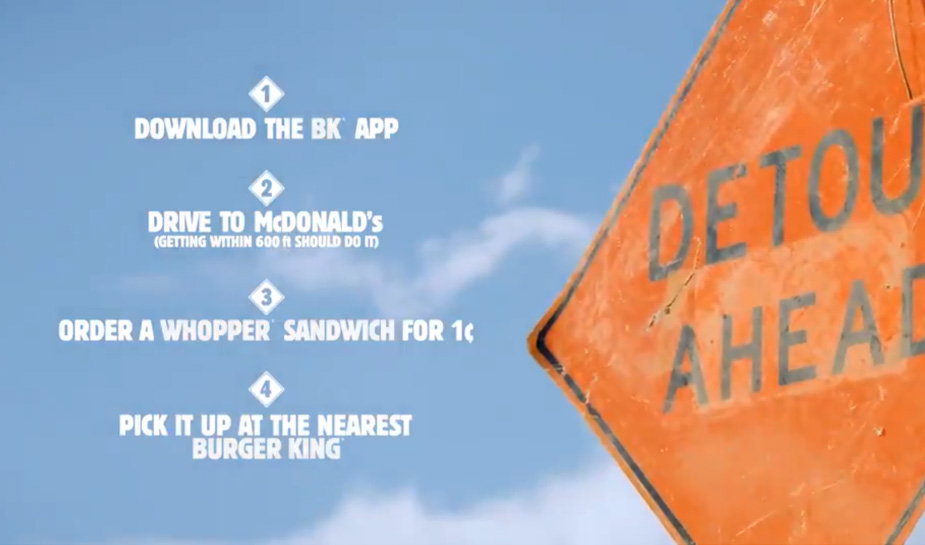 Some customers did get (understandably) confused and attempted to order their Whopper in the McDonald's drive through, causing hilarity amongst McDonald's staff who mostly took the prank in good humour or with cynicism.
The campaign video has already clocked up over 300,000 views and counting on YouTube, and over 50,000 people have redeemed the limited time offer for an almost-free burger. That's about 20 times more redemptions than any previous Burger King app promotion, according to CNN. The app has also been catapulted to first place from a far less impressive ninth in the food and drink section on the app store, demonstrating the impact of the campaign.
But it's also not been without its critics, with a number of customers expressing confusion at the stunt on social media and even opting to stick with McDonald's due to app download issues. However, it's certainly got plenty of folks taking about the brand.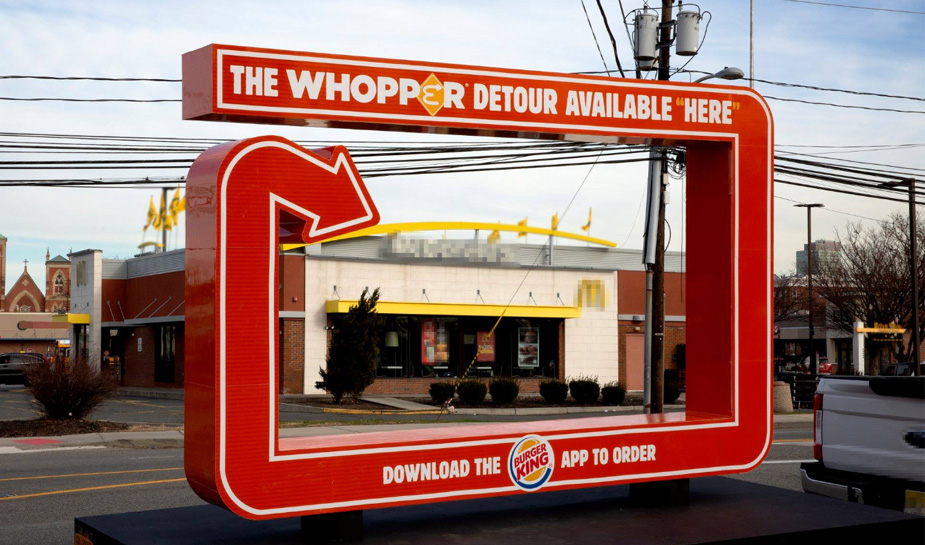 Burger King has established a strong reputation for experiential excellence in the fast food sector with stunts that range from the silly to the serious. When it comes to its competition, Burger King has never shied away from poking fun at McDonald's; only a couple of years ago the brand dressed up its restaurants as a McDonald's Ghost for Halloween.
Despite having a distinctly tongue-in-cheek campaign style, Burger King has also tackled a host of important political and social issues in recent years, with a Blank Whopper serving up a dose of reality to Brazilian voters and a Chick Fries prank that highlighted the unfair reality of the 'pink tax'.