Many brands pulled out all the stops to surprise and delight their fans over the Christmas period, but one brand in particular delivered a spectacular stunt to end the year on.
Burger King crowned a year of remarkable creative campaigns with a festive fun experiential and social media campaign in France, which saw the fast-food chain reward its biggest Facebook fan in France with an unforgettable gift.
Named as Burger King France's hero, Sullyvan K has posted the most comments on the brand's Facebook page, some 637 comments and counting.
To thank Sullyvan, Burger King France presented him with the best gift ever – his very own restaurant.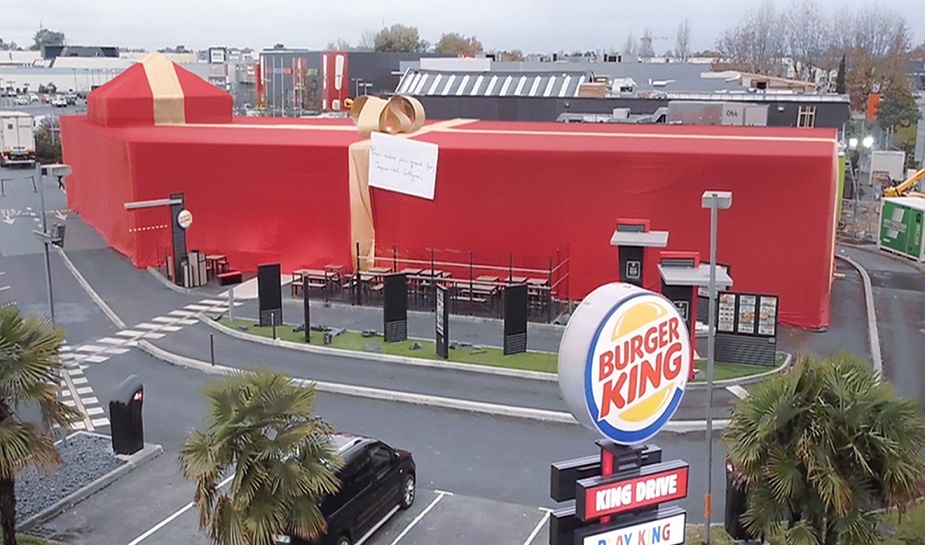 To create a giant present, 35 workers wrapped up Sullyvan K's local venue, Bordeaux Mérignac, over one night, using over 1 kilometre of wrap, and invited him to open it. To make it official, above the door is a sign that says, 'Home of Sullyvan K'. The lucky fan also has his own parking space and table inside, plus a golden tray and his own personalised Whopper packaging. He and any guests he takes with him also get to eat for free at the restaurant for a year.
To encourage further engagement on Facebook, the person who writes the most comments under the video of Sullyvan K receiving his gift, will win a year of free Burger King food. There are currently over 300k comments and counting. The video has so far had 1.7m views.
All social media activity was anchored under the hashtag #MerryChristmasSully, to help spread the campaign across all channels. Many users took to twitter to commend the brand on an exceptional campaign, which successfully demonstrates how to marry experiential stunts with social media to amplify a campaign and increase visibility.
The campaign also shows the positive effect of rewarding your consumers. Magical and memorable experiences like this one leave a lasting impression on fans and help build greater brand love.
This isn't the first time Burger King has effectively used a seasonal occasion to create a large-scale captivating stunt, like the time it covered one of its restaurants in a ghostly-white bed sheet on Halloween to take on its competitor, McDonald's.
McDonald's is also no stranger to using one of its restaurants to host a memorable experiential campaign. To launch its new Maestro burger, the brand stimulated all the senses and staged a musical takeover of one of its restaurants in Holland.