Breaking Bad had audiences truly hooked.
As Walter White descended from mild-mannered chemistry teacher to Hisenberg, the ruthless crystal meth maker, we were all enthralled in the twists and turns of the dramatic plotline.
Joining him in the drug underworld was Jesse Pinkman, a once young and energetic high school student thrown into some dark and disturbing situations, that would undoubtedly leave a lasting mark.
When the landmark show concluded six years ago, eager fans were left wondering what would become of Hisenberg's damaged and once exuberant sidekick.
To answer that question, the makers of Breaking Bad, released a short film on Netflix, El Camino, that follows Jesse Pinkman from the moment he drove away in the final scenes of the show.
To celebrate the series' lasting legacy and mark the arrival of the new film, a Breaking Bad inspired pop-up has taken up residence in West Hollywood.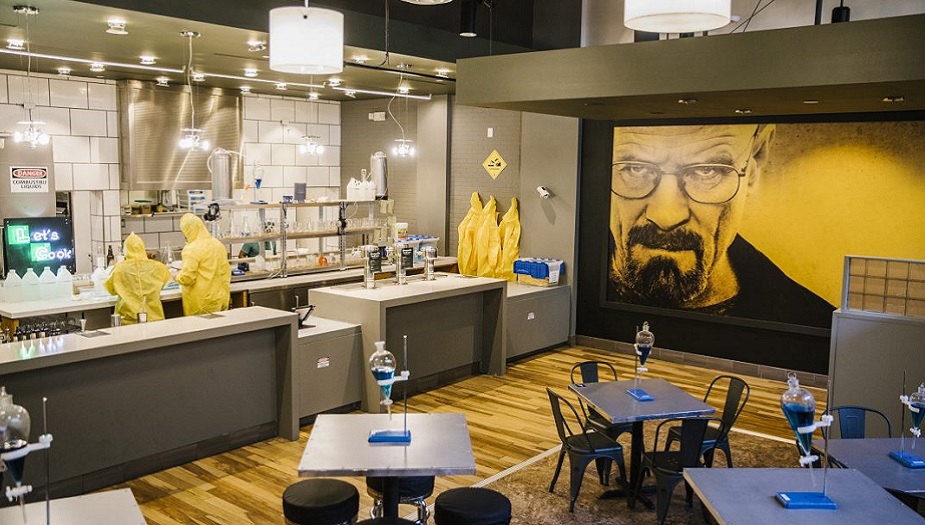 Back in 2015, series creator and El Camino director Vince Gilligan revealed conversations were underway to turn the famous chicken joint, Los Pollos Hermanos, into an actual restaurant chain.
While that never happened, it seems the new experiential activation could be the closest fans will get to stepping into the Breaking Bad world.
Bringing Albuquerque to West Hollywood, the Breaking Bad experience, as it's known, transported fans into the most iconic sets from all 5 seasons including the famous RV, Saul's desk, and a recreation of Los Pollos Hermanos – providing the perfect photo opportunity. There was even a mock lab where guests could try their hand at making faux crystal meth.
A themed bar offered food options like Heisenburger Sliders, Funyun Pie, and Marie's Purple Cake, alongside a chance to sip Dos Hombres Mezcal – the newly launched spirit developed by Breaking Bad actors Aaron Paul and Bryan Cranston.
To top it off, do-it-yourself 'chemically reactive' cocktails were also on the menu, offering delighted fans the chance to cook something up for themselves. Amplifying the theme further, the servers all wore the iconic yellow hazard suits, often worn by the characters when cooking crystal meth.
From the insta-worthy installations that looked exactly like the ones from the show, to the themed food and drink options, the immersive experience was executed to the highest level of authenticity.
The show's producers, AMC, are no strangers to experiential campaigns that bring its shows to life, like the time zombies were unleashed on New York to mark a new season of the Walking Dead, and when AMC created human charging pods in an airport to mimic new show, Humans.